The history of MCHS
February 28, 2018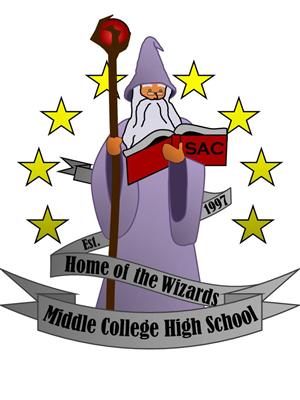 For many students, how Middle College High School developed is a history lesson that we've never truly been taught. Its history is becoming more of an important subject as MCHS's 20th anniversary comes around the corner. In a busy community like Santa Ana, Middle College High School has accomplished many important achievements that highlight its importance as one of the most successful high schools in the county.
MCHS was founded in 1997 and became one of Santa Ana Unified School District's newest schools. Its goal was to give students an alternative route to the traditional high school experience by giving them the opportunity to enroll in college classes. For the first six years after MCHS opened its doors, ninth graders were not allowed to participate in the program. However, in 2003 freshmen were introduced to the Early College Program as well.
The Bill and Melinda Gates Foundation partnered with MCHS in 2003 to assist in financial aid. Since the school was new, there were many obstacles that had to be addressed before we were able to reach the caliber that we are at today. The Gates Foundation has been responsible for paying for grants and tuition costs for students throughout the last twenty years. Thanks to them and a few other donors, the Early College Program has been able to run efficiently for almost 20 years now, providing thousands of students with a free head-start towards pursuing a higher education.
Middle College High School, despite what many may believe, is not too unique. When most hear about the educational opportunities that the school provides, they are astounded at the fact that kids are able to start college at the age of fourteen. Though MCHS's location in Santa Ana is rare considering the cities around it, schools like MCHS can be traced back to the 1970's.
The first "Early College High School" was developed during 1974 in New York. Like our school, its goal was to jumpstart university-bound students. Unlike our campus though, only students earning As in their classes were accepted for admission. Our school, on the other hand, targets a different type of student body.
Our previous principal Dr. Kathleen Apps revealed that: "A students, you know they're going to make it. C students get a lot of attention as well." The goal of Middle College is to take those students who are just in the middle – the average students – who sometimes fall through the cracks."
Our school challenges its students by immersing them in the dual enrollment program from their first day of the ninth grade. By allowing students to earn college credits in pursuit of their AA degree, MCHS molds its students into strong and independent university-bound students. These ideals of responsibility and dedication are represented in the fact that our school has a 100 percent graduation rate and a 100 percent passing rate on the CAHSEE. In addition, MCHS has earned a Blue Ribbon Award and earned the title of a California Distinguished School.
Compared to stereotypical high schools across the country, MCHS is incredibly unique. With a small student body and access to an important resource like Santa Ana College, our school continues to thrive. While discussing the benefits of attending our school, long-time teacher Mr. Valenzuela explained that, "Our school prepares students to graduate from a university. We are continually trying to fine-tune the students that go here; our numbers have increased, our graduation rate has gone up, and so has our university acceptance rate. MCHS gives students the opportunity to save money, bond with outstanding counselors, and be part of an inclusive community."