Dreamville V. TDE
April 5, 2019
Dreamville and TDE, or Top Dawg Entertainment for those who don't know, are two of my favorite record labels in hip-hop at the moment. J.Cole and Kendrick Lamar are the two biggest frontrunners for the labels, with Cole signed to Dreamville and Lamar signed to TDE. Those names certainly ring a bell; I mean, we all recognize them. However, there are many more on the labels' rosters that I believe not many know about. Coming in from Dreamville, we have artists such as Bas, Cozz, Ari Lennox, Omen, Lute, EarthGang, JID, and of course J.Cole. From TDE, we have Kendrick Lamar, Jay Rock, Ab-Soul, Schoolboy Q, Isaiah Rashad, SZA, Lance Skiiiwalker, SiR, Reason, and Zacari.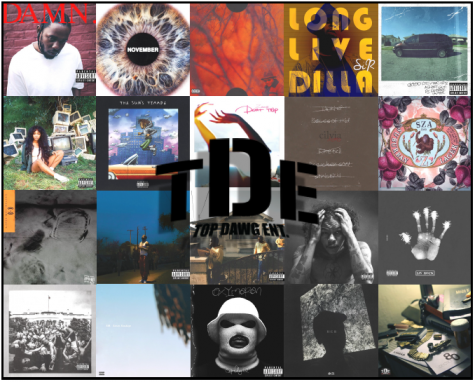 I've listened to a handful of the artists' work on either side, and I have to say that both labels have contributed a huge and a unique amount to hip-hop, both sonically and culturally. If we're talking about elevating to a "whole other world," I'd include songs like Ari Lennox's "La La La La" and Zacari's "Don't Trip," two of the most calming tracks from both labels. I understand that not everyone partakes in listening to "calm" rap, so feel free to even listen to Ab-Soul's "Huey Knew THEN," or maybe even Cozz's "Ignorant Confidence." Simply put, both labels' artists have a range of sound quality. That being said, I'd ultimately have to label Dreamville as my favorite record label/rap crew overall.
Needless to say though, it'd be a shame if I simply gave an opinion without supporting it; I'll go through artist by artist, starting with Ari and SZA, the only two female vocalists of the labels. While I do find SZA to be much more mainstream than Ari, her commercial success matches with the sentimental vibes that Ari's songs bring; I'd have to call it a tie.
With Cozz and Schoolboy Q, their raps show the aggressive side to their labels, but Cozz would have to take it with his more appealing style. Further along, we have Lance SkiiiWalker vs Lute. Both artists seem to be lesser known than the rest, with SkiiiWalker being a singer and Lute known as a rapper. Overall, Lute's projects have remained more consistent, thus giving this win to him.
Bas and SiR are similar in the fact that both convey the sound of a singer and a rapper. Because of that, it'd have to be a tie for me; both artists are on the same level in their professions. JID and Isaiah Rashad are another tie for me. While Rashad has been an artist for much longer and has more music out, JID debuted as a phenomenal lyricist who has already solidified his position in the music industry.
Despite the fact that EARTHGANG is a duo under one name, Jay Rock still holds his own against the two, Johnny Venus and Doctur Dot. There's a lot of appreciation for what Jay Rock has delivered in music, but I'd have to let EARTHGANG take this one due to their greater sense of creativity on tracks. Ab-Soul and Omen, who I believe are the top lyricists of their respective labels, are both capable of delivering confounding rhymes that mean something new every time you listen to them. While I do think that Omen's music is more appealing, Ab-Soul would be declared a better lyrical writer.
So we've made it to probably the biggest names in hip-hop right now: J.Cole and Kendrick Lamar.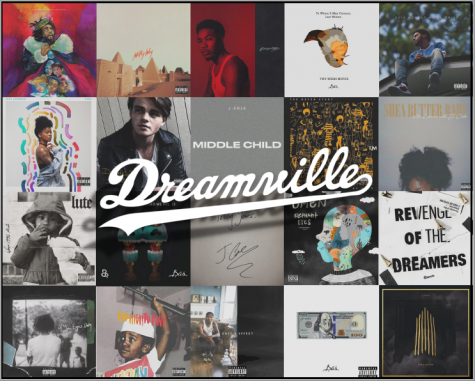 I couldn't possibly deny Lamar's achievements and abilities, yet neither could I do the same for Cole. Discography wise, I've found them both to be extremely talented at what they choose to write about; they know what they're doing. It's come to a point where preference makes the call for your "better" artist. From his unique songwriting to the moral values in his songs, J.Cole would be declared my favorite of the two.
In all fairness, TDE has done a lot to be known in rap altogether, which is why I would argue that they are more mainstream than Dreamville. SZA, for example, is known much more than Ari. The same goes with Schoolboy Q and Cozz; Schoolboy is more highlighted as an artist than Cozz. Regardless, I can definitely appreciate the work that both labels have contributed. Music, to me, is an indescribable art that appeals to everyone to an extent, regardless of age and taste. So these two rap crews are my own foundation for what hip-hop should sound like. Each artist brings something new to the table and it's important to me that their contributions are highlighted in order for their sound to influence future generations, even if the new sound isn't familiar. All in all, my two favorite labels remain in their own lane, but hip-hop probably wouldn't be the same if there was no competition. Even JID might've said it best, "We just really competing with TDE. This is a whole other thing. We competing with TDE. That's what needs to be known."