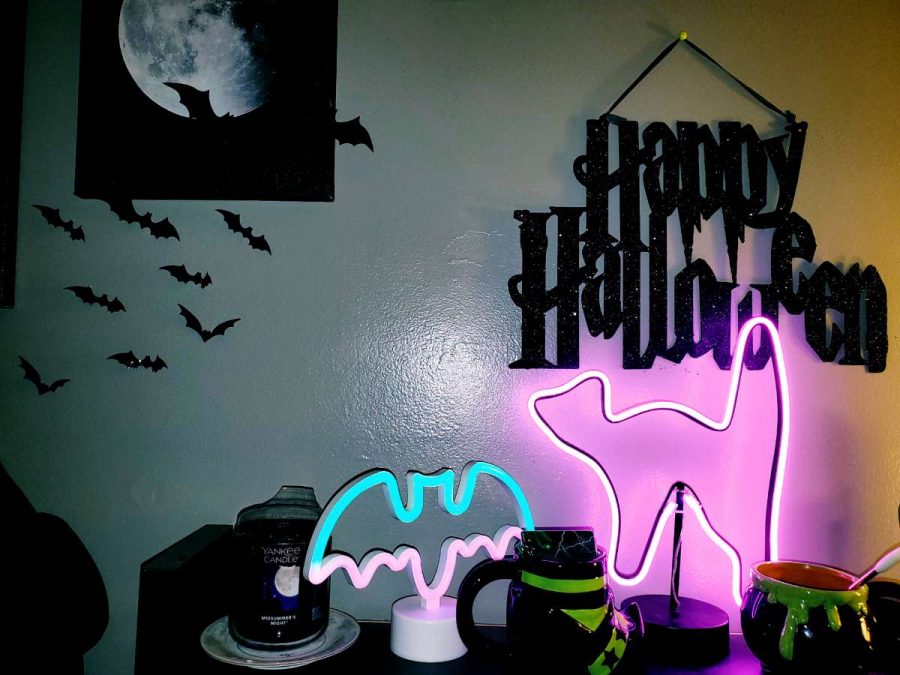 Giselle Barrera
It's October 31, Halloween night, and you're stuck at home with nowhere to go, no reason to dress up, and nothing to do. Wrong. You may not be allowed to go out but you can still make the best out of Halloween night.
Halloween activities may be restricted this year due to COVID-19, but that doesn't mean you can't celebrate it indoors with your family doing fun activities or outdoors at COVID-safe locations. Whether it be staying inside and watching the full moon or going out to an event, it's important to make the best out of Halloween this year.
Halloween is to be enjoyed no matter what age you are. It's the one night that you get to express yourself and spend time with your family and friends, even if this year is different.
"The thing I most enjoy about Halloween is the way everyone has the freedom to be whatever they want to be. They can be whoever they want whether it be scary, cute, funny, or horrifying. It's the one night that they can be free and it's meant to be memorable," sophomore Giselle Barrera said.
Barrera has chosen to spend her Halloween indoors, for the most part.
"This year I'm celebrating by baking Halloween-themed treats and delivering them to my friends while social distancing. I will also be having a horror movie marathon with my family and watching the full moon from our roof," Barrera said. 
A similar idea includes creating bags of goodies for your friends and family and leaving them on their doorstep, also known as "ghosting." Some Halloween-themed treats include cake pops, pumpkin/ skull-shaped cakes, and spider-themed cookies. Other activities include Halloween arts and crafts, decorate, face painting (SFX makeup), dressing up, and having Halloween-themed manicures. However, another activity includes watching Christmas movies!
"To celebrate, we have a movie night and set up a projector in the backyard eating snacks while watching Christmas movies or PG-13 because of my little sister," sophomore Aaliyah Candela stated. 
This is another idea on how to spend Halloween if you have younger siblings and want the movies to be family-friendly. Then, later that night while the younger kids sleep, the older kids can watch horror movies to fit the mood.
It seems as though most people will be spending Halloween inside. 
Parent Rosa Quinonez said, "Taking the kids out for trick-or-treating would be risky, especially for the younger kids, so we'll most likely just go over to a relative's house and spend time together watching movies and baking treats." Simple yet sweet. And, that wraps up our indoor activities for Halloween.
Although Knott's Scary Farm was canceled this year, Knott's Berry Farm has decided to host "Taste of Fall-O-Ween Festival" from Fridays to Saturday and some Sundays starting September 25 until November 1. This event will be themed Camp Snoopy trick-or-treat with outdoor dining. 
For the first time, the Anaheim Fall Festival and Halloween parade will have a drive-thru starting at 11:00 a.m. on October 24 so check it out if you want! 
The 17th Door Haunt Experience in Fullerton has also opened its doors to the public during the month of October. They're open from Wednesdays to Sundays although times and prices vary depending on the day. You must buy the tickets online and as a "private group" of 4 to 6 people. All customers will be required to wear a mask at all times due to the pandemic and sign a Waiver/Release.
The Urban Legends Haunt will now have a new drive-thru Halloween experience at OC Fairgrounds in Costa Mesa. Prices start at $69.99 per vehicle from Wednesdays to Sundays. Time and prices vary depending on the day. All customers will be required to wear a mask at all times inside the vehicle as well.
"I believe we have to make the best out of Halloween instead of sulking around complaining about the limitations," Quinonez said. "You won't be kids forever so I'd say make the best out of it and be as childish as you want."