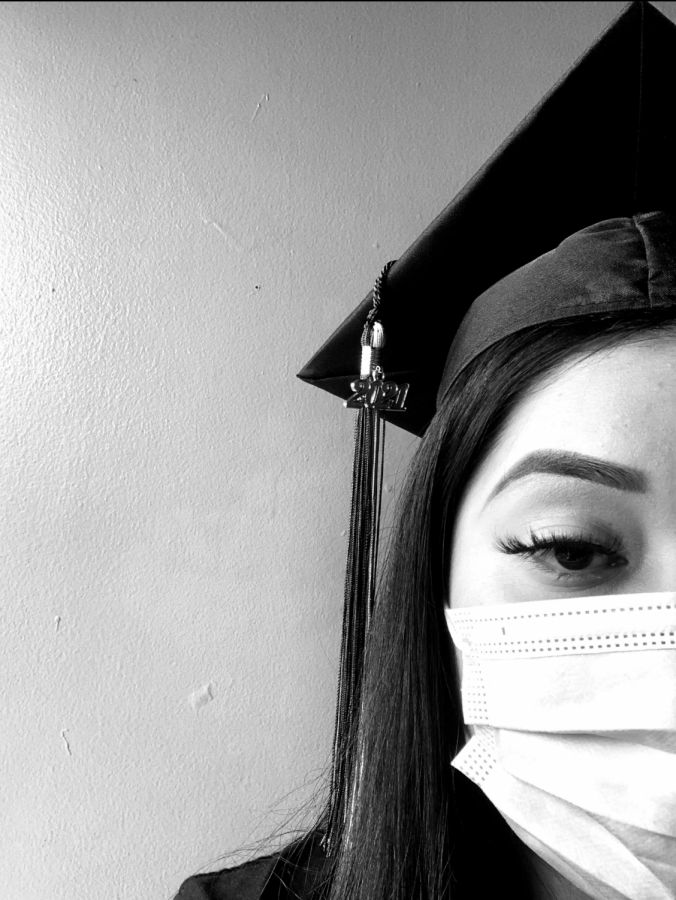 Aliris Gonzalez
Stressful nights, frustrating thinking, and countless hours are coming to an end. The end for the class of 2021 is approaching. Seniors have questions regarding senior activities. Will they be the same? How will it go for the class of 2021?
According to The New York Times, there are 3.39 million COVID-19 cases and 50,000 COVID-19 deaths in California. This is a high rate of mortality that concerns many and may be considered a factor from attending events. 
Rafael Ramos, ASB and senior activity coordinator, gives his input on the impact of COVID affecting senior activities. 
"Most senior events will be cancelled and those that are held will be socially distanced and not the same," said Ramos.
When seniors are feeling burnt-out, everyone knows that it is due to the "sickness" called "senioritis." But this year, the reasons for seniors feeling senioritis are made worse because they do have extra burdens due to the pandemic.
ASB President, Karina Romero, provides her thoughts on this year's senioritis.
"Senioritis will be different this year because everything is virtual. Senioritis will be not logging onto zoom or not turning in assignments," said Romero. 
Senior and Dance President, Michelle Kerk, also contributes her thoughts. 
"Senioritis is different this year because students are more inclined to put off doing work. Some people may have a busy household, so they can't concentrate, or others may have too many responsibilities to manage on their own," said Kerk. 
On the other hand, the number of people getting infected with Covid keeps concerning many staff, districts, students, and their families. The class of 2021 is curious and anxious to see what will happen. They want answers during these inconvenient times. Seniors are crushed with low expectations on how their senior year will end. Senior year was supposed to be the most exciting year students looked forward to however, it is not what they expected. 
It is official that Disney has canceled Grad Night due to COVID-19. It has crushed many student's senior year activities they were looking forward to. Many students looked forward to hanging out with friends and having a good time. 
Senior Karina Garcia shares how she is feeling towards the closure of Grad night. 
"I looked forward to the senior activities during my senior year especially Grad night because of all the stories my older siblings have told me. It's quite sad that everything got canceled for our last year of high school. I had always visualized my senior year to be filled with fun activities and lots of time spent hanging out with friends," said Garcia. 
Lots of emotions are being held for this year's seniors. Low and high expectations affecting their grade status. 
Michelle Kerk shares her senior year expectations.
"At this point, I'm not expecting much from my senior year anymore. I don't have much to look forward to, which is unfortunate," I feel like I have told many people that I feel robbed from my senior year experience," said Kerk. 
Some students don't expect any more greatness of their senior year with all that is occurring. Even before this pandemic started, seniors looked forward to their activities. Other than Grad night, students looked forward to other senior activities. Activities such as prom and graduation.
Garcia shares what events students looked forward to during senior year. 
"I think the biggest event students look forward to would be prom because it is a once in a lifetime event. You get to have a good time dancing with your fellow classmates before we all part ways going to college," said garcia. 
Kerk also provides what seniors also look forward to. 
"For most people, graduating as a class would have been the final moment you got to see the friends you had spent the last four years studying and sharing laughs with. The reality is, graduation is the day where our high school journey comes to an end," said Kerk.
Even though this year's senioritis and senior activities season are different, students still hold the good in finishing their year with good grades and acceptance letters to universities. Making the best of this senior year is in progress.