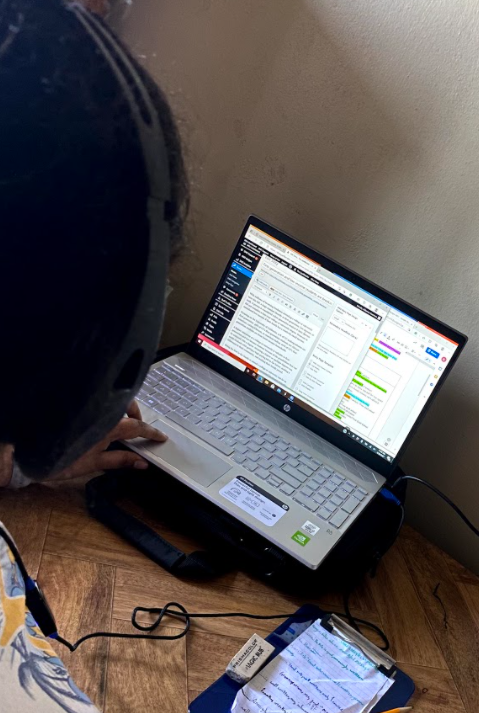 Rebecca Guerrero
On March 18, 2020, the stay-at-home orders were sent and we were all put into lockdown. Over the last year, we've all had to adjust to online learning, but for classes that require personal interaction, many challenges arose. The Spellbinder journalism staff had to work hard and be more united than ever to overcome the distance and put out issue after issue since the school's closure.
"I think the pandemic caught us by surprise and created a new appreciation for normalcy. And it has given us time to examine our lives and pushed us to take more risks because it reminds us of how temporary things can be. As writers, we can write about anything we want and this pandemic has given us time to do so, " Co-Editor-in-Chief Maria Alegria said.
When asked about the shift online, Alegria mentioned that despite the difficulty, it has ultimately offered a new outlook of opportunities for the staff due to the ability to research and dedicate more time to their stories. Additionally, Alegria mentioned that despite seeing a "significant shift in work since transferring to completely online in the beginning and now it has slowly diminished," the writers have grown stronger despite it. Over the year, Alegria saw how the staff overcame the barrier that was made when this all began, and she shows her amazement in the staff for being able to do so determinedly.
Adviser Mrs. Storms reflected on what happened in April of 2020.
"We were all in shock, it took weeks for the staff to come back together, and I was really worried and stressed out for them, and I thought we were just finished for the year. I think the stress and anxiety made it feel like we were moving in slow motion. I struggled as a teacher because this is an elective, and there are some electives that don't require a lot of work. Instead, for some reason, students were energized to do the work as I've never seen before. This year, the staff has been so motivated and dedicated while I would have expected otherwise. It's probably been the easiest year I've ever had in terms of producing good writing and reporting," said Storms. 
Storms talks about the shock and initial terror the staff felt when this all began last year, but despite all that was happening at that time, they came together to put out two more issues before the end of the school year. Storms mentioned that despite all that was happening in the world, the staff showed up more motivated than ever to produce the Spellbinder. She said that thanks to all the hard work the staff has put in, this has allowed for an easy process of producing good reporting and is proud of the staff for being able to do this. Despite all the amazing work put in by the staff, Storms sees one of the biggest challenges brought by the pandemic as the inability to interact with one another.
"We were not able to do staff bonding and camaraderie, however, it's still amazing that we do collaborate because we review writers' work and give feedback. We have a healthy level of trust and willingness to take the feedback and do the work. The thing that's impressive to me is the risk-taking that people have done. They had more trust and were willing to accept help," said Storms.
One of the hardest things since the shift as mentioned by both Alegria and Storms is the fact that distance learning hasn't allowed the staff to be as close as years prior. In the years prior the staff would always have help around them and as Alegria said, would allow "a bond with our writers and editors" to develop and trust to be fostered. A big part of journalism is collaboration and communication, so in losing the ease of these things, students have had to offer complete trust in each other to get the work done. Also, Storms has mentioned that this trust in one another has allowed the students to take more risks with their stories and talk about the more difficult issues and topics important to them and the community. 
"I just can't emphasize how pleased I've been this year and how proud I am of this group of students. They truly know what it means to express their voices and to want to inform our community and despite all the pressures they are under in this pandemic, it's the most highly motivated group of journalism students I've ever had," said Storms.
Despite all the changes the Spellbinder staff has had to endure since the beginning of the pandemic, they've still managed to put out six issues and dozens of stories from writers, new and old. Both Storms and Alegria have shown their pride and thankfulness for all the work the staff has been putting in despite the circumstances. Alegria made the point that even if things happened causing their story to be delayed, that it was fine because "we are human– things happen." Journalism is a big part of our world and Alegria has said that she is so happy and proud of the work the staff has put in, especially the new members, for they put the time and effort in to write amazing stories and produce The Spellbinder. 
Despite being thrown into a time of isolation and chaos, The Spellbinder staff has risen above the barriers and worked diligently and dedicatedly for the community to ensure that their voices are heard and the news is shared.