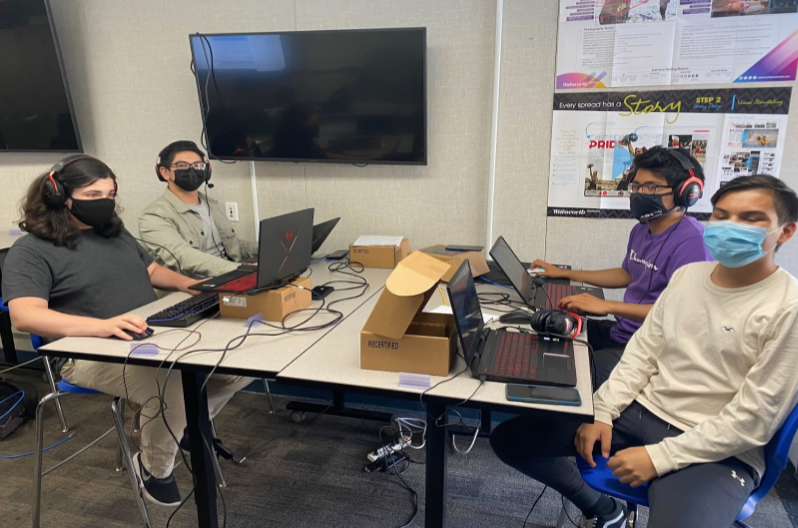 Laura Compton
What is esports?
For those who have no idea what esports is, the most basic explanation is that it's an industry for competitive gaming where anyone can create their own team and compete with others in tournaments hosted by the creators of the game. Of course there are organizations that own and buy teams to compete in these tournaments in order to claim the title of the world's best.
"Esports is an industry that brings together gamers from various platforms. It provides opportunities for those gamers to showcase their skills via competition, but esports is not just about video games. It's also the production of the video games, the production of the competitions and tournaments. Esports is about organizing these events, planning the events, they're so many different aspects to it," said Esports Club co-advisor Rafael Ramos.
What does esports do?
The Esports Club brings together club members to create teams to be able to compete against other schools. The club decides on teams depending on how many players want to compete. There can be multiple teams for the same game and teams are decided by the club members (which team they want to be on) or members are put on whatever team needs members if they don't have specific people they want to play with. Members could also opt to be subs for teams if there are not enough members for another team. 
Esports also hosts events every other Friday. The events they host usually involve hosting a school-wide tournament for anyone who wants to join. Any member is allowed to nominate any game they want to host a tournament on and the winning game is the one who has the most votes at the end. People who wish to participate need to fill out an online form saying they are going to participate in the tournament. 
What does it wish to accomplish?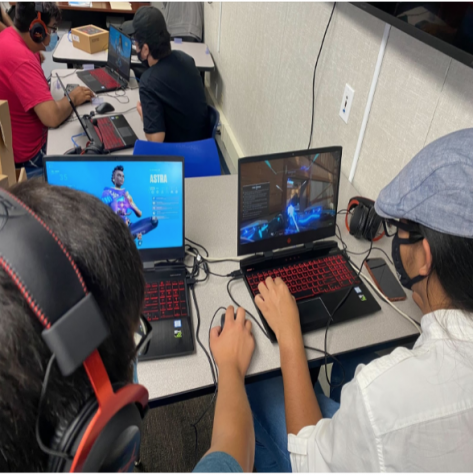 The main goal all the teams want to accomplish is to win the tournaments for their game and be able to reach nationals. The Esports Club tries to raise their level of gaming and teamwork with other people to get them prepared for the future if they want to continue pursuing a career in esports. We also want them to have some friendly rivalry for players to be able to help each other to improve.
The main goal the Esports Club wants to achieve as a whole is being able to introduce more people to esports and create a community where both newcomers and long-time gamers are able to have fun and play games with others.
"We just hope to accomplish the fact that everyone had fun playing games together and were satisfied, regardless if we won or lost because we go together through gaming and love for the gaming community," said David Velasco, Esports Club president.
History of esports
The idea of an esports club was first introduced to the club co-advisor Mr. Ramos when he attended a conference in Santa Barbara. They talked about the topic of esports and how some schools have and can use it to try and get students interested in school activities. When the idea of creating an esports club was first discussed, it did not receive a lot of positive support from the school. They did not understand much of esports and did not want to spend the school budget on video games. 
Lucky enough, around the time Ramos was trying to set-up an esports club here, our other club co-advisor, Mrs. Compton, was promoting the idea of esports clubs throughout the district. Mrs. Compton was successful with her campaign and soon the district told schools the idea of creating esports clubs and that convinced the school to invest into equipment for the Esports Club. The Esports Club was originally founded thanks to the joint efforts of both the club advisors and the first members of the Esports Club.
When I asked Compton why she started promoting esports to the district she said, "I always loved video games right and my husband is in the esports industry and I was like 'why in the world, like our kids are good at this why don't we have this?' They are offering scholarships to colleges; it's a booming industry. There's a lot of careers; why don't we have this for ours students, so I set off on a journey to make it available for you guys," she said.
Major Events/Goals
The Esports Club wishes to win many tournaments this season, but the most important event for the Esports Club this season is the High School Esports League (HSEL) playoffs and trying to qualify for nationals. This is an opportunity to expose club members to what the esports industry is like, so they can decide if they want to keep pursuing it or not. We want to let people experience what the esports industry is as a whole. We want them to know all the things that go into esports, the background work that needs to be done, and all the work needed to be successful in esports.
"I want at least one of our teams to make it to nationals. All we need is to put in the time to practice, improve and we will be all set to make it to nationals, you know, maybe we can even win the whole tournament,"said  Esports vice president Leonel Funes-Alvarenga.
Kinds of Games 
Esports offers tournaments for all kinds of games ranging from pc, console, and even mobile games. Some games require a team to participate and the amount of members needed for a full team depends on the game they are playing. If team games are not your thing, or you just don't have a team to play with, there are also games people can play solo, without needing to form or join a team. Some games esports host tournaments for include: Valorant, CSgo, League of Legends, C.O.D, Rocket League, Overwatch, Chess, and many more.
What is the Future of esports?
As the esports industry continues to progress and evolve, so will the Esports Club. There are some projects already in progress for esports. Mrs. Compton is working on a district-wide tournament. It will be a tournament in which all the high schools in SAUSD will play against each other tournament style and one school will be named the champion. The club co-advisor Mrs. Compton is also talking with the college in getting an esports area for us to use. Starting next year Middle College High School will be offering esports as an elective class for students to take.
People who don't have equipment to play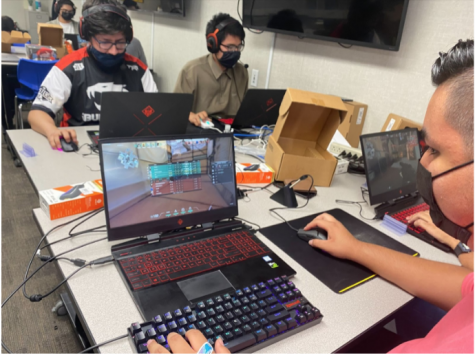 As people who don't have the equipment to play games at home, you can borrow equipment from the school. The school has spent some of its budget to help buy equipment for esports and some equipment has been donated by the esports co-advisor Mrs. Compton. So students can borrow equipment if they need to; they just need to check it out. Sadly, the only equipment that we can lend members are the ones playing on PC since we don't have lots of equipment for members playing on consoles. 
If you have any interest in esports or games in general ,you should come check out the club. You can come to hang out with other members, join or create a team for esports, and just have fun playing games. You don't have to be the very best at games, you can even be a beginner. Esports is all about the time and dedication you put into it. It's all about learning and growing from experience. Members don't have to play competitively if they don't want to; it is completely optional if they decide to play or not. Anyone can get into esports if they are interested, and the esports club will fully support you if you decide to join no matter of grade, skill, gender or race. All you need to do is have fun. I encourage people to at least come and experience what esports has to offer. Please come check us out on Wednesdays during lunch in Mrs. Compton's room. 
My thought on esports
When I first signed up for the Esports Club I had no idea what I was getting myself into, and god only knows what I was thinking when I volunteered to be part of a team for a game I never played. Despite all that, my team never once complained or blamed me for my gaming skills and believe me when I tell you I was bad. They actually gave me a lot of support by giving me tips and tricks to get better. I was never forced to play or practice if I didn't want to or when I had something important I needed to do. I am actually a sub for that team now but it wasn't because I was asked to step down; it was my own choice to step down because I didn't want to drag the team down and decided to practice on my own before I was ready to play competitively with them. I made it my goal to be good enough that I don't drag down the team and have to be carried. I want them to depend on me as a teammate and not a liability because I always have fun playing with them even when we are not competing. My experience with the Esports Club so far has been fun. Everyone was so helpful and supportive of me trying to get better at the game. I believe people should come to hangout, play video games and have fun gaming with the Esports Club.
Esports Club officers:
Mrs. Laura Compton (co-advisor)
Mr. Rafael Ramos (co-advisor)
David Velasco (president)
Leonel-Funes (Vice-President)
Cesar Flores (Treasurer/publicist)
Darren Leang (secretary)