BTS‌ ‌"Permission to Dance" ‌on stage ‌-‌ ‌LA‌ ‌Day ‌One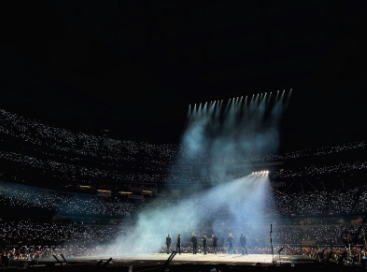 Nearly more than two years since their last concert in 2019 at Jamsil Main Stadium in Seoul, South Korea, BTS  once again performed in Los Angeles. They became the first act in history to sell out four-concert shows at Sofi Stadium, drawing in nearly 50,000 on just the first day.
On November 27, BTS held its first offline show in Inglewood, CA at SoFi Stadium. Sophomore Lesly Gonzalez and I arrived there before the gates opened at around 6 a.m., hoping to be one of the firsts in line. However, there was already a long line that nearly wrapped around the back of the neighboring Target.
At 7 a.m. they opened the gates so we could line up for the three different merchandise booths outside the stadium that opened at 10 a.m. One of the booths was for PTD and MOTS official merch, the second was for Vintage Retro merch, and the third was for albums and lucky draws. To avoid selling out quickly and allow everyone a fair chance, each item had a limit of two per person. Even with these restrictions most of the merchandise reserved for day one sold out within a few hours.
After waiting a total of six hours in line, we were, fortunately, able to get our merch and army bombs. As we walked closer to the stadium we saw multiple lines for different attractions that allowed you to take photos with the members virtually. Near the "Permission To Dance" sign by the lake, there were a lot of people handing out freebies such as bracelets, stickers, keychains, snacks, photo cards, prints, and even albums.
As the time for the show started to approach, we began looking for the entrance we were supposed to go through. Depending on the section number shown on your ticket, you lined up at your designated entry in order to enter the stadium, which opened at 5:30 p.m.  These lines got really crowded hours before the opening. We, unfortunately, made the mistake of lining up at 4 p.m. By 6 p.m. the lines were barely, if at all, even moving. 
Just as the show neared, people panicked at the slow progress of the lines and started cutting in front of others, and some even tried to cut us off. Once we got to the entrance we were let in after getting our clear bags, vaccine card, and ticket checked. Later on, we found out the same could not be said for others as security was letting people go through as long as they did not push.
After waiting in line for hours, I started feeling a bit fearful as I sat down on my seat. What if the concert didn't live up to my expectations? Would they be as incredible as I thought they were? However, I tried to ignore it and focus on the music videos being played and the excitement from the ARMY (Adorable Representative M.C. For Youth — the name of BTS's fanbase) around me. Then, after screaming through the first VCR, BTS finally made an appearance. And just like that, all my fears went away. They were here and very much real, I thought to myself.
Finally, the opening chords began to play and I started screaming my head off so loud I felt my head and heart might explode from the sheer excitement. As impressive as the music video for "ON" is, nothing compared to the live performance. Witnessing the precision of each dance move and the clarity of their vocals is completely different in person. After going through a hard time this past year, singing my favorite songs along with BTS and thousands of ARMYs reminded me what it's like to feel alive.
There's just something about BTS's live performances that is so awe-inspiring. It's like watching a miracle, as they go into their intense choreography during "Fire," captivating the audience with their impeccable vocals and showmanship during "Dope," and finally greeting the audience during their opening "Ment." While ARMY screamed at the top of their lungs—trust me, I've had a sore throat for days—I'm pretty sure BTS matched our energy. I knew they missed performing in-person concerts, so seeing them dancing and having fun-filled my heart with so much happiness.
I absolutely loved watching the members run around the stage, sit on a moving couch and try and make each other laugh, and travel around the stadium to be closer with ARMY. Seeing the choreography for "IDOL" in person is a dream come true, and hearing the fan chants in the background made it a million times better. My favorite moment might've been when Baepsae came on and I watched the members have the time of their lives and dance their hearts out. Or it could've been when the opening notes of "We are Bulletproof: Eternal" came on and everyone struggled to hold back their tears, which I failed miserably to do so. The sequence of "Blue and Grey" to "Black Swan," then "Blood Sweat & Tears" to "Fake Love" might be one of the most beautiful stages I've ever seen.
As I mentioned before, it's hard to pick a favorite when I can clearly see how hard they worked to perfect every note they sang, every dance move, and just their overall performance.
Before the show came to an end, I was a part of something I'd dreamed of being a part of for months. And that was the ARMY bomb ocean. Everyone, including me, had their phones out ready to record in one hand and their army bomb in the other. Seeing the wave get closer and closer felt so thrilling but it didn't compare to the way I felt the moment my turn to raise my army bomb came.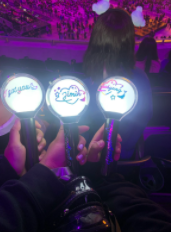 Eventually, it was time to go. As I was walking out of the stadium, I overheard other fans talking about what the concert and BTS meant to them. It made me start thinking about what BTS meant to me. BTS means happiness for the times I'm feeling down. BTS means healing when I need relief from my emotions. BTS means community for when I felt so alone during the past two years. Their music is always there for me whenever I need it, and attending this concert solidified all of that.
Setlist:
ON
Burning Up (FIRE)
DOPE
DNA
Blue & Grey
Black Swan
Blood Sweat & Tears
Fake Love
Life Goes On
Boy With Luv
Dynamite
Butter
Airplane pt.2
Silver Spoon (Baepsae)
DIs-sease
Telepathy
Stay
So What
I NEED U
Save Me
IDOL
—ENCORE—
-vcr:5
 We are Bulletproof: The Eternal
Answer: Love Myself
—closing ment
Permission to Dance
View Comments (8)
About the Contributor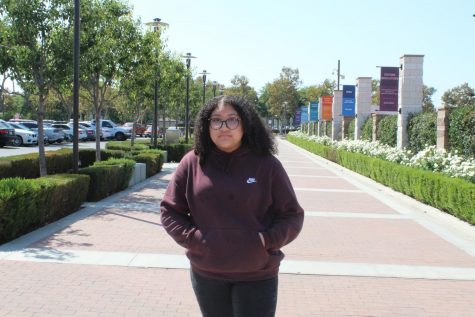 Fatima Carrera, Staff Writer



I am the youngest child, I like to read, and I like kpop.