Middle College returns home
Returning to the old Middle College building has brought many emotions to both teachers and students. Teachers were stressed out because of all the packing and students were nervous because some of us have never been there. Moving back to the old building has its advantages and disadvantages, but it feels great to experience something new again.
Moving right before winter break and coming back to a different building felt weird; this is because the change was in the middle of the year with students remaining in their respective grades, but a new environment had challenged the way students got to class. Surely, even seniors with their expertise in maneuvering through the school felt a little lost. Some teachers were rushed to start packing up in December, and it was kind of stressful needing to have everything ready before the break. The teachers had to label all their boxes, chairs, tables, desks, and personal belongings in under two weeks which made them feel rushed. On the contrary, however, moving back to the original MCHS building gave students the precious opportunity to earn community service hours by helping teachers pack up or move things to their soon-to-be room.
The room feels like a fresh start and it has both its advantages and disadvantages.
"I like this building more than I expected myself to. It feels like a fresh start and I like it because I've never been on the second floor before. I like this building better because every time I take a step it doesn't vibrate as the village buildings did. The only problem that I've been having is that since the restrooms are not working, I have to run in between classes to look for one, but it feels nice to know that this building gives a more permanent feeling, and the office is near now," said chemistry and AVID teacher Micah You.
The teachers get to have a nostalgic feeling about coming back here to the old building and getting to experience a new room too.
"The building overall is good because I get to have more interactions with teachers that I didn't really see before, but the only disadvantage is that the ASB members don´t have their own quad to host nooners as they did at the Village," said U.S History and ASB teacher Rafael Ramos.
Some teachers are getting used to coming back to the old MCHS building, but prefer the space that the Village area had to offer. Teachers feel like it's nice to be back to the old MCHS building but some students don't agree with them.
"I don't really like the building that we're in right now because there are always AC problems, and the windows aren't big enough so it feels really depressing since you can't see outside and it just feels crowded. I prefer the Village buildings because we had a view of what was going on outside and the AC would work better," said junior Ahmad Obeidallah.
There are many mixed emotions when it comes to the old MCHS building for various reasons.
One of these reasons, as stated by students, is because it feels depressing and cramped, while the village represents a better classroom with an open view. Additionally, this building hasn't entirely been renovated as of now, requiring individuals to cover large distances for a simple restroom break. However, I am certain that everyone will get used to being here and enjoy the building.
"I have a great ocean view on the balcony here and amazing sunsets," said Mr.You, jokingly.
I personally think that this building isn't that bad. I liked the village ones better because of the view and it felt like there was more space but I can get used to this building. I do hope that they fix the AC problems because it gets really hot or really cold and we can't change the temperature. I would also like bigger windows or more light because in the classrooms that are downstairs if the door isn't open then it feels cramped and sort of sad because there isn't enough sunlight to go in.
About the Contributor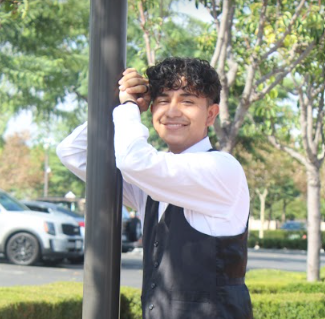 Juan Alvarado, Staff Writer



I like to draw, I like to play video games, and I like to play soccer.