First talent show wraps up with a standing ovation
The first talent show in MCHS history took place Friday on November 17 at the Quad in the Village. The idea of the talent show first came to light when the Senior ASB president, Miguel Marquez, brought a document filled with possible ideas for events to the first ASB meeting. The winner of the talent show had to be judged on three criteria consisting of style, skill and presentation; the people who judged the competition were Mr. Voight, Mr. Ramos, and Ms. Groff. The grand prize for coming in first was a trophy filled with numerous small goodies and a ticket for Winter Formal. The prizes for second and third consisted of a couple smaller prizes.
The ones who were in charge of the talent show were the sophomores Dylan Mai and Moses Gonzales. They were asked about how they felt about being in charge of the talent show. Gonzales responded, "This is a new opportunity and chance to show people's skills and talents."
There were eight participants who are excited to take over the stage. When asked about how they felt participating in the first talent show, many of them were happy to have something new at Middle College High School. "I don't know what to expect, but it will be fun!" said singer and senior Sandra Ceballos. "It's a platform for students to express their talents."
Middle College hasn't had events that have displayed the talents of students, and duet singers and seniors Sirena Navarro and Cesar Ruelas have their explanation: "We're so focused in academics that talent in our school goes unnoticed." This was a thought that was echoed throughout all of the participants. All of the participants who were interviewed wished that a talent show would be a yearly thing. "I think that it gives an opportunity for students to participate in what they do best," commented junior Adriana Patino, who played the harp at the show.
The talent show was a major success! Gonzales said with a smile, "I personally thought the show was going to be a mess, but I was pleasantly surprised." All of the chairs provided for the audience were taken; some students were even left standing to watch. "Most of our school came, and they enjoyed the several acts that we had," continued Gonzales.
As the curtains closed on Middle College's first talent show, people wondered if the talent show would become an annual event, and to that, Gonzales said hopefully, "I hope to see the talent show become an annual event in the future, so that way all future Middle College students get to experience the talent of their peers."
About the Contributor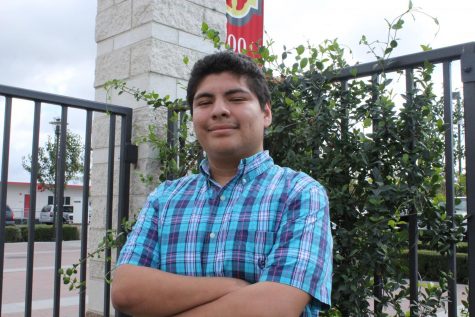 Carlos Alba, Former Staff Writer
Fun Facts:

I love rainy weather.
My favorite time of the year is fall and winter.
In the rare occurrence that I have free time, I just sleep...