What's up with the football rivalry between MCHS and Chavez?
It's Saturday morning, and five minutes are left on the clock. The players were readied at the line of scrimmage with MCHS being 20 points ahead. The ball snaps and the quarterback hands off the ball to junior Adrian Diaz for a running play when he's lifted from the ground by a tackling Chavez player.
Apparently, this isn't the first time something like this has occurred.
Mr. Ramos, MCHS teacher and coach, said, "Almost every season against Chavez things happen. There are comments thrown back and forth, one or two players will get into each other's faces, but no ones ever thrown a punch or gotten physical."
He then discussed his thoughts on the two school's rivalry.
"I think the rivalry exists because MCHS and Chavez are usually the top two teams in every sport and face off against each other in the finals," he said.
Senior Bryan Martinez, MCHS student and athlete, thinks the rivalry exists because, "MCHS always has an edge on Chavez. Although Chavez is more athletic, they lack the ability to play as a team and let their emotions interfere with their game."
Martinez stated, "Sophomore year the same thing happened with Chavez; we almost got in a fight. They were losing and emotions were high. There were moments where they played rough and dirty. MCHS got tired of it and we started shoving back."
Chavez's receiver and running back Dylan shared his thoughts on his team's performance during the game.
"Only thing we could have done better was have more time on offense and communicate better," he said.
Shortly after the incident where Adrian was lifted by a Chavez player, Chavez decided to forfeit the game.
Ramos was not content about them forfeiting.
"There were still five minutes left in the game where we could have subbed in players. 30 minute games didn't allow for substantial playing time and Chavez robbed the players of more time on the field by forfeiting," he said.
Ramos then explained how the forfeit was unexpected.
"For the most part, we go in hesitant thinking there will be conflict. Usually, the outcome is positive; Chavez players will hang around after the game. Pictures have been taken afterwards as well. Forfeiting caught me off guard because incidents have happened in the past and we've been able to get past them and shake hands," he said.
Martinez shared his thoughts on the matter.
"It's bad sportsmanship because they gave up on themselves as a team, and there was still time left to turn the game around, but they let their emotions get in the way," he said.
Ethan Kolenyi, MCHS alumnus who played for the team junior year and coached this year, said ,"I think Chavez forfeiting the game was pretty weak to be honest. The game was already over and it just showed they couldn't lose with dignity and that they wouldn't have been able to show respect to the better opponent after the game. Chavez forfeiting was like an act of disrespect to the game, in my eyes. I think it's important to respect your opponents and the game most importantly. Respect to their quarterback who played well and talked to us after the game."
There was also discontent with the rules of the game as well as the referees.
Ramos said, "Everything on the player and coaching side was done well. Referees could've been better, and the field wasn't set up with markers at the 25 yard line. The rules were sent out before the actual tournament, but there was still miscommunication regarding rules and what was allowed."
When asked about his thoughts on the overall environment of the tournaments, Kolenyi said, "I think the tournaments are fun, but I'd really love to see weekly games as opposed to a one-day tournament. Maybe call up schools similar to ours like Legacy or Samueli Academy and add them to the tournaments so we could have a longer season. I'd also like to see some consistency in the rules, because I feel like they change slightly every season."
Although the tournaments need improvement, it's clear they make a positive impact on those who participate whether on or off the field as remarked by Kolenyi.
"I think the tournaments are a great way for schools like ours to show off our athletic talents. especially since we don't have the same athletic opportunities as other schools in the district. I think the rivalry aspect is fun too! it takes things to the next level and makes it really intense," he said.
Martinez, who joined as a way to stay active and involved said, "It's something to do on the weekends for fun. Though we don't get a lot of opportunities to play, it's enjoyable to spend time with your team and/or friends and bond."
About the Contributor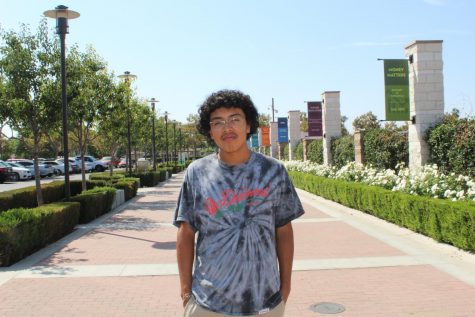 Hugo Rivas, Staff Writer
I like spicy food, I have two brothers and two sisters, and I can double flip a water bottle 99% of the time.