Messi & Ronaldo: Why did the soccer stars leave their clubs?
About 20 years ago, soccer fans were introduced to two players who are now known as "the best players in the world." They both were receiving many awards and breaking many records. Lionel Messi and Cristiano Ronaldo were brought to the soccer scene in 2001 and 2002. While they played in different leagues, the two soccer stars were both stationed in Europe. It took them little to no time to become a fan favorite soccer player. After many years of playing with their teams, they sadly split from their home clubs to represent a different team.
You may ask, "Why is it a big deal?" or "Why does it matter if they are still playing professional soccer?" Well it's a big deal because they both accomplished most of their achievements in the clubs that they left. Messi left Barcelona after playing for them for 21 years. He was awarded the "Ballon d'Or" six times. A Ballon d'Or is an annual football reward for the most prestigious soccer player in the world. He also won many international awards along with league titles.
It was also a big deal that Ronaldo left his club because he also had great accomplishments with Real Madrid. He was awarded the Ballon d'Or 4 times while he was playing with Real Madrid and he also managed to win many league and championship titles. Some people may argue that they made a name for themselves in those clubs that they left.
Middle College High School is full of soccer fans who really enjoy the sport. It's no surprise many of them were upset with the transfers that were held for both the soccer stars.
Senior Bryan Martinez was watching the UEFA Champions League when he heard about the transfer news.
Martinez said, "It is very upsetting and heartbreaking seeing them leave. I grew up watching Messi so seeing him leave was very sad. I will continue to watch and support Messi."
According to ESPN, Messi left due to many reasons. The main reason why he left was because the football club Barcelona had money problems.
"…Lionel Messi will not be returning to the club after financial problems prevented them from agreeing with the forward on a new contract," they said.
After many more interviews that were held with Messi, it was said that he wanted to stay in the club but they just didn't have enough money to keep him. He also offered the club to cut his salary but the club still refused to keep him. Many fans were confused on why they didn't want to keep him.
The club finally let Messi go since they couldn't come to an agreement and the fans were caught by surprise. Not only were Messi fans caught by surprise but Ronaldo fans were also shocked when they found out that Ronaldo had also left his home club.
Senior Ishmael Perez has an optimistic view of the news.
Perez said, "Cristiano, he is a good guy all around. Football, lifestyle, fashion he does it all. He will find success anywhere he goes."
Unlike Messi, Ronaldo left Real Madrid because the presidents of the club didn't show interest in him anymore. In an interview with France Football he talks about the problems he had with Real Madrid.
"I felt within the club, especially from the president, that I was no longer considered in the same way as I was at the beginning," Ronaldo said.
Even though some people didn't like the idea of these stars leaving their clubs they still supported them and also supported soccer. It will continue to be the "beautiful sport."
"I respect their decisions and see a great future for not only them but for soccer itself," Martinez said.
About the Contributor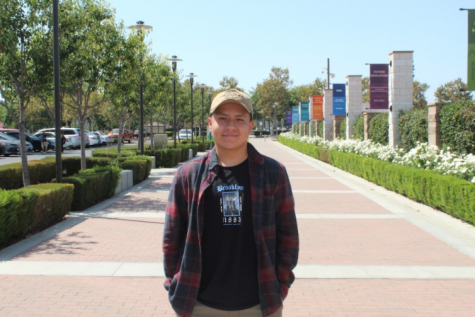 Bryan Bacilio, Staff Writer
I like soccer, I'm the middle child, and I broke my arm before.