Future of Dreamers without DACA
A young woman with a college degree in one hand and a bag full of dreams in the other searches for the perfect job. She has taken advantage of her opportunity to go to college and have a career in the United States. However, her opportunities were put in danger when the Trump Administration cancelled DACA on September 5, 2017.
DACA allows undocumented immigrants to work in the United States without fear of deportation. This program was initiated on June 15, 2012 under the Obama Administration. Congress has been given a six month window to make a decision about DACA. Approximately 800,000 undocumented immigrants who benefited from DACA will be affected by this repeal.
Important things to know:
Your DACA is valid until its expiration date
DACA and working permits remain valid until their expiration date.
Traveling abroad will no longer be allowed
Permits to travel abroad will no longer be given.
DACA is not receiving new applications
The Department of Homeland Security is no longer accepting DACA applications or
renewals.
For more information click here.
The Santa Ana Unified District has been informing and supporting their students. Mrs. Espinosa, the Middle College High School counselor, says, "The district has gone in protective mode."
The district has had meetings with SAUSD staff and has held a forum to inform the community of the current situation with DACA. There aren't anymore DACA sessions scheduled, but Mrs. Espinosa will gladly help any students who have any concerns. Seniors have reached out to Mrs. Espinosa for help. A message she gives students is to, "stay hopeful and do your best."
Congress, get ready to do your job – DACA!

— Donald J. Trump (@realDonaldTrump) September 5, 2017
Mrs. Espinosa has been counseling for many years and has seen this before. It's an ongoing cycle where a president's administration changes programs or replaces them. Important programs that have been put into place are the AB 540 and AB 130. AB 540 changed the education experience for undocumented students when they no longer had to pay the international tuition for college. With this program, they were allowed to pay in-state tuition. The AB 130 is mostly known as the Dream Act and was put into place in 2001. This allowed undocumented students to receive state financial aid and made certain scholarships available to them. These programs made their education more affordable. However, when undocumented immigrants became college graduates they could not work in the United States. DACA was the game changer in 2012, providing undocumented immigrants with employment authorization cards with valid social security numbers and relief from deportation. Mrs. Espinosa knows "it can get discouraging" but things can change and new programs will be offered.
Congress now has 6 months to legalize DACA (something the Obama Administration was unable to do). If they can't, I will revisit this issue!

— Donald J. Trump (@realDonaldTrump) September 6, 2017

Students who benefit from DACA have been in the United States since they were children and know no other home. A junior at MCHS, whose identity we will protect, is one these students. She is a hardworking student who aspires to be an accountant, but the recent recall for DACA could affect her. She has investigated the current situation with DACA and has had support from her family, friends, and professors. She has received e-mails from professors with information about DACA. She is still doing her best in school but says, "I'm afraid everything I worked so hard for will be taken away."
About the Writer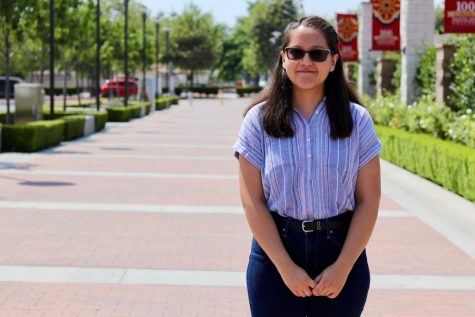 Kasandra Tapia, Co-Editor-in-Chief
Fun Facts:

I have an obsession with shoes.
I'm a vegan.
I have ruby ball cacti named Nora and Sandy.