MCHS students rally for gun control
It had been nearly a month since Florida student Nikolas Cruz stormed into Marjory Stoneman Douglas High School with an AR-15-style rifle and killed 17 students and faculty members.

In the weeks following the shooting survivors and their allies turned their grief into activism. Part of the national effort was the national school walkout on March 14th.
The walkout was open to American students, teachers and staff. But the idea originated with EMPOWER, the youth branch of the Women's March, and it's the main national voice encouraging people to participate. The organization's website says more than 2,500 walkouts are planned for the near future.
Saturday, March 24th, students and their allies are marching to demand Congress act NOW to end gun violence at @amarchforourlives. In solidarity with our youth, we teamed up with students and artists to release a portfolio of FREE hi-res downloads at https://t.co/WsDwjClRuW. pic.twitter.com/41ke7F8iPd

— Amplifier (@amplifierart) March 16, 2018
This movement, like others, has been spreading across the nation rapidly, to the point where we can see it taking place on our own field here at MCHS. As students, it's a right to protest on school grounds and we are lucky to have a supportive district such as SAUSD standing behind us. Recently, Valerie Amezcua, President of the Board of Education, released a statement: "We realize that some students may wish to show solidarity with their peers across the nation by taking part in this activity, so we are providing peaceful, constructive activities at our secondary campuses to provide them with a safe, learning experience. SAUSD respects students' freedom of speech in the school environment. In accordance with state law, we will not discipline students who choose to assemble."
The movement started at 10:00 a.m. with the gathering of students from all grade levels outside of their respective classrooms. From there, students walked in solidarity and silence to the 17th yard line on the football field, to honor and remember the seventeen lives lost in the shooting.  Those at the protest were then led in 17 seconds of silence for the victims. After everyone joined in silence, our principal, Mr.Voight, stood up and spoke about millennials and our involvement with this movement: "Only you guys can make a change here, so please for the safety of everyone try and make a change."
As usual, there is always a cloud of controversy with these types of things. After interviewing several MCHS students there was one question on everyone's lips at the end of the day: "Why didn't ASB stand for this movement?" But after speaking to ASB president Miguel Marquez on the topic of the issue, he stated, "I understand where the concern is. But as a student government that stands for the equal representation of every student, we felt it wouldn't be fair for the minority to stand for the majority." Although ASB received backlash for it's disinvolvement in the walkout, what students should remember is that it was their choice and how big of a difference they were making by using their voices to stand out.
Leave a Comment
About the Writer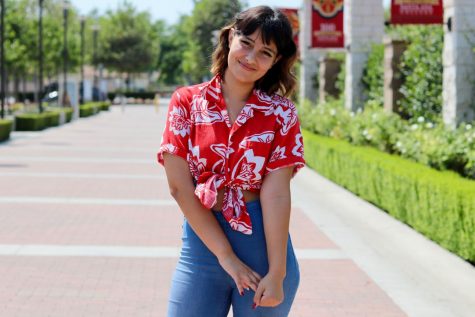 Grace Elson, Opinion Editor
Fun Facts:

I have about 800 hours on Fallout.
I've been skateboarding since I was 7.
My favorite band is Cage the Elephant.