Wizards for Water take on the OC Half Marathon
Hang on for a minute...we're trying to find some more stories you might like.
Raising over 5,000 dollars, Wizards for Water runs the 2018 OC Half Marathon to give water to those in need. Wizards for Water started training in late January for this, starting slow, challenging themselves to run 15 minutes without stopping and slowly working their way up. Twenty-nine runners on behalf of MCHS participated, including two teachers, Mr. You and Mr. Ramos, two MCHS graduates, and three students who do not attend MCHS. Wizards for Water ran with Team World Vision, World Vision's running team. The company has done a lot of things around the world, from child sponsorship to disaster relief to developing projects in developing countries. The half marathon started in Newport Beach and ended at the OC Fairgrounds, Sunday May 6. Wizards for Water met here, at MCHS, at 4:30 a.m. and took a bus that took them to Newport Beach. Their race was 13.1 miles and started at 6:15 a.m., with their fastest runner, Alex Cervantez, a sophomore, finishing the race at one hour and 52 minutes, and the slowest runner, almost three hours.
Mr. You first found out about World Vision in 2015 from looking at other people's Facebook posts, thinking it would be pretty cool to run for a good cause. On one of Mr You's trainings for the LA Marathon he saw a man, also running, with a World Vision shirt. Mr You came up to the man, introduced himself and asked him if he was a part of World Vision. This man's name was Don Lee and he was a director for Team World Vision. He and Mr. You ran several miles that day, and Lee informed Mr. You more about World Vision. When he told Mr. You that high school students can run in marathons with a partnership with World Vision, Mr. You brought the idea to MCHS. That year, Wizards for Water ran in the marathon with a small team.  This year, during Mr. You's wedding, guests paid to dance with the bride and groom to raise money for the cause and raised about 2,000 dollars.
Lorena Paz, junior, woke up at 3:30 a.m. to volunteer at the OC Marathon. Her shift started at 4:30 a.m. and ended at 9:30 a.m. "I was making sure that all the racers had their numbers, locking up the extra possessions and handing out water." She volunteered because she believes that running to provide clean water to those in need is a good cause.
Mr. You would like to thank everyone for "all the amazing support we got from the school and our friends and family, it couldn't be done without them."
About the Writer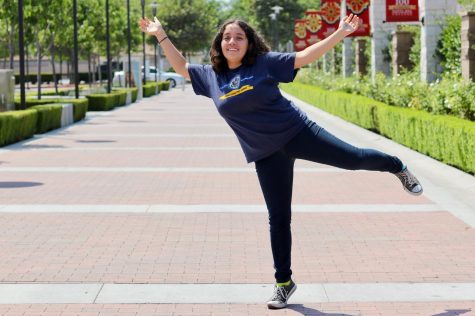 Tais Avila, Former News Editor
Fun Facts:

This is my third year as a journalist in the Spellbinder.
I'm always open to making friends.
I  enjoy watching musicals with friends...