Stay safe on your college campus
Seniors are getting ready to go to college and will soon be spending most of their time on their campus. Whether they are living in the dorms or are commuting from home, it is important to be cautious and stay safe. Students have learned that school is a safe space, but how safe is a college campus? Take a look at these statistics from 2015 from the National Sexual Violence Resource Center: one in five women and one in 16 men are sexually assaulted while in college. Out of all the sexual assault victims on college campuses, more than 90 percent do not report the assault. These statistics are alarming; both women and men in college are being assaulted and do not report it, which is why this violent crime is the most under-reported crime.
As a college student, it is important to be aware of the laws that protect students' rights. One of these laws is the Campus Sexual Violence Elimination Act (Campus SaVE), which ensures that students are aware of the crimes happening on their college campus and where they can get information or help. This act requires colleges to give reports with statistics of dating violence, domestic violence, sexual assault, and stalking on or near their campus. These reports must show statistics from the last three years. Institutions must provide awareness programs and sexual violence prevention education to students.
Another law that protects student rights while on a college campus is the Patsy T. Mink Equal Opportunity in Education Act (Title IX), which requires federally funded educational institutions to protect all students and staff from sex-based discrimination, which includes sexual harassment and sexual violence. This law also protects the victims as it prohibits that a person reporting an assault from being punished. After a student reports an assault to the college, it is the institution's responsibility to ensure the student has access to support services at no cost. Colleges implement these laws on their campus by taking immediate action after an assault has been reported; colleges have established procedures that they follow and a formal hearing must be made in cases of sexual violence.
Some college campuses have taken action to improve the situation, including our very own Santa Ana College. At SAC, emergency call button stations have been placed throughout the campus. These devices can also be seen on Cal State Fullerton, one of the local universities. Programs have also been created in various universities and it is important for students to know the resources available to them. The Rape, Abuse & Incest National Network (RAINN), a non-profit and anti-sexual assault organization, has a page to rate assault prevention programs on college campuses.  Click here to check it out.
Nancy Mendoza, an MCHS alumnus, attends UC Berkeley and has learned various ways to stay safe on her campus. "Just by being super alert about the people around and not being distracted on your phone is helpful," says Mendoza. Technology can be distracting, so it is important be aware of your surroundings, especially while walking at night.
To those students who commute Mendoza recommends to be careful while walking to the parking lots because it is the place where commuting students are targeted. Also, walk in groups when walking through campus at night or even in the day. UC Berkeley has a school wide alert system that sends students alerts about criminal activity at the campus. Mendoza says, "Reading those and being aware of what some of the criminal activity helps me stay away from some possible dangerous areas."
View Comments (7)
About the Contributor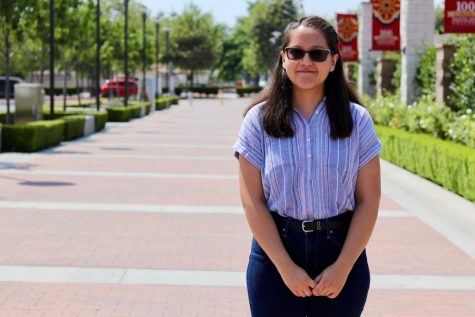 Kasandra Tapia, Co-Editor-in-Chief
Fun Facts:

I have an obsession with shoes.
I'm a vegan.
I have ruby ball cacti named Nora and Sandy.