Everything wrong with Senator Elizabeth Warren's DNA Test
On October 1, Sen. Elizabeth Warren (D-MA) released a DNA test showing she has distant Native American ancestry, in a desperate attempt to preempt previous attacks from President Trump as well as reach a wider audience of voters. Through the course of the last two years, President Trump has scrutinized her claims of having Native American heritage by denying her refutes completely as well as calling her "Pocahontas."  These far-fetched claims have not only made her political tactics questionable but has upset and angered the Native American and Cherokee nation. Belonging to a tribe doesn't come with heritage and something like this shouldn't be taken lightly. By taking the test, Warren appears to have angered at least one prominent tribe. Rather than settling the speculation by responding to Trump's challenge, she's prompted an entirely new argument about whether she should have taken the test at all.
My biggest issue with this test does not stem from the fact that she did it, but of what she was trying to gain by doing so. Politicians like Warren only have one thing in mind when they're campaigning, and that's to get the most voters– whatever way possible. The most common way they get votes is through siding with the minorities because it shows their "true" nature. Famous politicians gain support from smiting the hard working Latin communities, praising the rising level of employment among African-American communities, etc.. Warren is no exception to this argument. When asked about what they think about politicians and their voting schemes, Senior Bryan Rodriguez stated: "It's quite distasteful how they manipulate the masses for their own gain."
According to the National Congress of American Indians, only 60% of Native Americans are registered to vote, which means upwards of 1,000,000 aren't registered to make a change. Politicians, like Warren, see these trends and they cling to them. So is it such a coincidence that at the same time Native American votes are so low, she releases this test? I don't think so. Since the aftermath was probably not expected to be this severe, Warren and allies are trying to steer the focus back to the policy rather than a continued focus on her heritage. But various statements from both the Cherokee Nation and Trump suggest this issue won't leave easy.
"We, as a community, appreciate Senator Warren's push to bring awareness to violence against American Indian and Alaska Native families, who all too often are invisible to most Americans, but it could have been done differently" Native American Activist and Representative Kasandra Jones stated. "As marginalized communities, we often struggle to bring tribal interests to the center of the debate." Some support Warren while others don't."
"Using a DNA test to lay claim to any connection to the Cherokee Nation or any tribal nation, even vaguely, is inappropriate and wrong," Native American Activist Priscilla Locklear stated in an interview with this reporter. " Warren is undermining tribal interests with her continued claims of tribal heritage."
Locklear's statement also said Warren's DNA test "makes a mockery out of DNA tests and its legitimate uses."
22) Genetic scientists sometimes have faith they'll eventually find tribe-specific markers because they have delusions of indigenous stasis.

— Kim TallBear (@KimTallBear) June 28, 2016
Leave a Comment
About the Contributor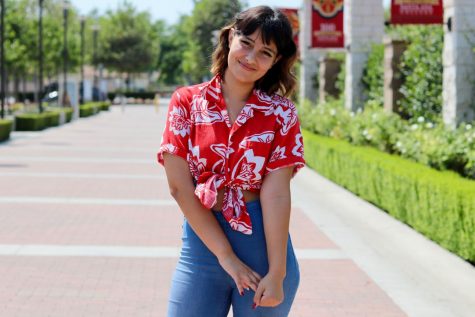 Grace Elson, Opinion Editor
Fun Facts:

I have about 800 hours on Fallout.
I've been skateboarding since I was 7.
My favorite band is Cage the Elephant.