'Tis the Season to cuff
The leaves are falling, but are you falling in love (or like) this cuffing season? With cold weather comes the need for a mug of hot chocolate and a companion (often known as a boo) to keep you warm on chilly nights. Netflix and Chill? No, too overrated. Hulu and Hang? That's what it's all about.
Cuffing season, according to Urban Dictionary, takes place during the fall and winter seasons. During these months, "People who would normally rather be single or promiscuous find themselves, along with the rest of the world, desiring to be 'cuffed' or 'tied down' by a serious relationship." Both men and women are in a rush to find that special someone in their life. Once you find that special someone, you are officially 'cuffed.'
According to the "Save the Date Show," Cuffing Season officially begins November 1 and ends February 14.  All of November is pre-season. December 1 through January 15 is the official Cuffing Season. And January 16 up until February 13 is considered to be play-offs. However, this schedule is subject to change and shift based on feelings, emotions, and any other problems that may come your way. And the Championship Game is February 14, Valentine's Day. Winner takes all. You win your boo.
Cuffing Season, however, is not just a recent phenomenon. According to TheManual.com, in the 1800s, people who lived in cold climates such as the French Alps, would hibernate and keep their animals company during the winter. We're basically doing the same thing now. Yet, instead of hibernating with a burly and fluffy bear, you hopefully get the chance to cuddle with an actual human being.
Cuffing Season is not as simple as it may seem, however. There are many components and steps in order to 'cuff' your boo. It's a procedure more or less. In a poll conducted, 67 percent of students reported that they are not 'cuffed' or are not looking to be 'cuffed' at this time.
Since cuffing season is complicated and has many definitions, students from Middle College were interviewed and asked for their opinions on 'Cuffing Season.'
Paola Fierro, Middle College senior, explained that cuffing season is a time where people want to start relationships and be able to do cute "couple things." For example, go to pumpkin patches together, give each other spooky baskets, and dress up as couples for Halloween. It's called #relationshipgoals.
Senior Daniel Diaz, an advocate for living the 'single life,' did not initially understand the concept behind cuffing season. However, he suggests that people should just stay single. When asked  what he would advise to those trying to form a relationship at this time, he said, "My question is, why would you want to start one (a relationship)?"
However, on the other hand, America Luna, a newly-cuffed junior, explained to us the benefits of being in a relationship at this time. She said, "It feels good not being so lonely and having someone to talk to." She doesn't necessarily credit 'cuffing season' for her relationship. She believes that a relationship happens naturally and not just because the seasons are changing. A relationship can happen at any time and not just during cuffing season.
At the end of the long and lonely day, for those of us who are single, you get to decide who you spend your nights with. Hulu and Hang with your friends or Netflix and Chill with your boo.
It really is cuffing season i aint seen "men are trash" on my timeline for the past week

— Aaaaaaaadil 🤪🤪🤪 (@Aadil_Hanif) October 8, 2018
About the Contributors
Joanna Mejia, Staff Writer
Fun Facts:

I love to eat açaí bowls and chickens. All kinds of chickens: grilled teriyaki chicken, fried chicken, grilled chicken sandwiches, chicken...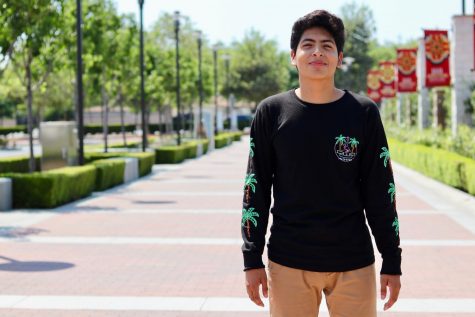 Edgar Hernandez, Staff Writer
Fun Facts:

I've watched "Grey's Anatomy" three times... and counting.
I McLove McChickens.
Medicine is cool.