MCHS wins their first basketball tournament
The basketball tournament happened on Saturday Dec. 15, and it came by faster than you can dribble a basketball. Middle College High School's basketball team was hungrier than ever, never winning a single tournament, and always coming second to Chavez. The tournament took place at Valley High School, and the teams participating this year were Middle College High School, Loren Griset, and Chavez.
This year's team has some veterans but also a lot of new people. For the first time, everyone on the team had to try out, because the largest amount of players available to be picked were 15. And there was definitely more than 15 people trying out. One of the biggest changes is with the coaching staff, with Mr. Ramos and Mr. Kaneko stepping down, and Mr. Curtis and Mr. Jacob stepping up. Both have huge amounts of basketball experience, with Mr. Curtis playing basketball in high school, and previously coaching the girls basketball team at Huntington Beach. And coach Jacob's personal experience of playing basketball was back in high school. The team consisted of 14 players, and they had nine scheduled practices leading up to the tournament. Though nine practices does somewhat sound like a lot, it's really not, especially when some of those practices are only one hour long. But no matter what, the team had been grinding every single practice, studying and learning every single play, and just working hard to get better. Though the team had never won, that didn't stop them from being confident that we would take the trophy home this year. Mr. Curtis stated, "The team has been working very hard and they couldn't be any readier. I haven't seen the other teams, but I'm confident that they'll do great, and we can win the championship."
When game day finally came, the team came early, scouting out the other teams and practicing beforehand. The first game was against Chavez and was a fight throughout the whole game. At the end, MCHS was able to come out on top and win by a score of 32-24. After that, with less than 20 minutes to rest, MCHS faced off against Loren Griset. You could definitely tell that the team was tired because by half time, the team was down 12-8. But Mr. Curtis was able to motivate everyone by stating, "Guys this is the lesson we learned from our last practice, no matter how much you're losing, you're still not out of the game. Basketball is all a mental game, you guys got this, and I believe in you." The speech worked great because with two minutes left in the fourth quarter, the game was tied at 20-20. At the end, all the hard work paid off, and MCHS won 26-22. Everyone was filled with joy to be able to hold the basketball trophy for the first time, and team captain and senior Nick Rodriguez gave a speech in the huddle stating, "I've played with this team for four years, and every year we've always lost, but this year is different, all you guys worked hard and now we're able to bring the trophy back home. I'm proud of you guys and I couldn't have asked for better teammates."
About the Contributor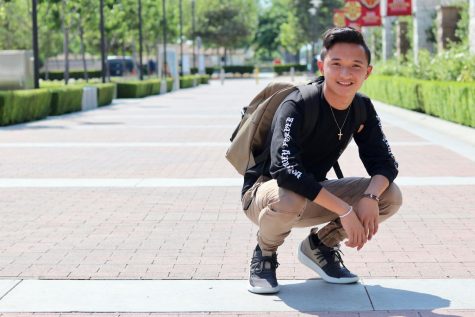 Jason Andrei Espiritu, Staff Writer
Fun Facts:

Basketball is my all-time favorite sport.
I'll annoy most people I know.
"Work hard because when the time comes, everyone will know...