First ever dance festival at Santa Ana High School
Students know the MCHS dance team for showcasing their talent through performances they do during school assemblies and events in the quad. However, they also participate in events outside of school. One of these events took place on December 7, at Santa Ana High School. The dance team has participated in smaller events such as one held the last school year at Calle Cuatro at Downtown Santa Ana, but this just might be the biggest performance yet for the 2018-19 dance team.
Junior Daniela Flores has been with the dance team since the summer before her sophomore year. Flores joined, believing it would be something fun and different, with the hope it would let her get out of her comfort zone. Everyone is kind and encouraging with each other in the team, making it a good environment. "We're there to dance and to put on performances, but it's also a way for us to become good friends," said Flores. With high hopes of everything going as planned the day of the festival, it can be nerve racking, participating in such an event. With several other schools from SAUSD and other school districts, the standards are high for everyone, even if it's not a competition. "I'm just going to try and have fun with it," said Flores.
New team member and freshman, Lillian Le, was also a nervously excited participant of the Dance Festival. Le said she joined because she, "really had a passion for dancing even though I couldn't really take any classes, I thought that joining the team would get me the closest to my passion as I possibly can." Now that she is able to perform, she finds herself challenged, but that keeps her motivated to put her best foot forward. Expressing her feelings, she said, "I feel like I'm a lot more nervous cause like when we went to practice yesterday, there were a lot of good dancers and routines, and so it helps motivate me to do better but also like makes me nervous." Le said that the thing that makes this event different for her is that, "since this is like a dance festival and a type of competition, I guess it makes me more motivated than what might happen because we see all these other dance groups and they're really good so we want to go up to par with them and be able to compete with them."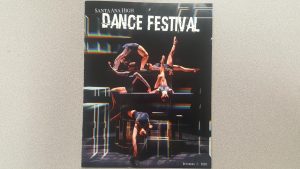 Senior Vanessa Rodriguez had her own insight on the dance festival, as well as on the dance team in general. She is one of two Vice Presidents of the MCHS Dance Team. "I like that we are introducing new dances," said Rodriguez. Everyone in the team has their own likes and dislikes depending on the genre of music, or on the type of dance style. With no dance instructor, Rodriguez along with Vice President Selina Saleh and President Abril Perez have to choreograph the dances to show the rest of the members. The team arrived at Santa Ana High School the day before the festival for rehearsals. This allowed them to gain new ways to improve, which they observed. It may have been nerve-racking to see other schools that were very talented, but exciting at the same time, because schools cheered each other on through the nervousness. Rodriguez believes this performance to be different from the past three so far this year. "The fact that we're putting ourselves out there, like Middle College, a lot of people don't even know we have a dance team. A lot of people just think we're [MCHS] a bunch of nerds. I find that it's different and that we're also exposing ourselves to different dances." Rodriguez personally wanted to introduce contemporary dances, but with no dance instructor or proper equipment, this goal is a little too far out of reach. The team took things from the other schools, in a positive way. Facials being something important. They observed how in sync other teams were, their facials, and outfits worn. Vice President Rodriguez believes the MCHS Dance Team lacks facials as a team. Among other things, the advantage other schools may have are a designated dance room and a dance instructor. "These are like professionals, they've been doing these [performances] for years, the school at least, and the coaches. [And] we have a math teacher as an advisor," said Rodriguez. Although the team may have no dance instructor, performances are still able to be choreographed and practiced by the team, to then be performed.
Co-vice president Selina Saleh who is really pleased with this year's team said, "I really like our dance team currently because all three of us, presidents, we chose strong dancers and dancers that obviously need improvement but we know how to improve them and I really like that we gave everyone a chance auditioning." Even though both Vice president Saleh recognized they had fewer resources than the schools they participated with, Saleh was happy with their performance and said, "We haven't seen other dance schools and I was nervous because they have studios, they have dance teachers, so going into that knowing that we only have Kaneko as our advisor and just us three presidents working. I was kinda nervous but it turned out great I really liked our performance."
Anyone who had gone to see the performance would not have thought the dance team was not in the same category as the other teams there. Their commitment, effort, early morning practices and weekends spent were clearly not a waste of time.
Leave a Comment
About the Contributors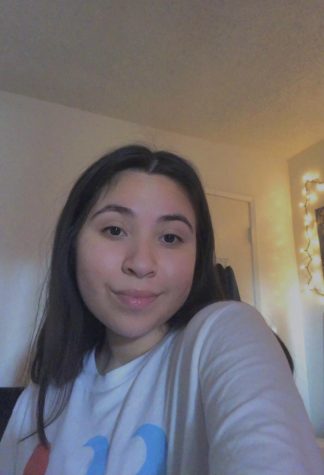 Adriana Flores, Staff Writer
I'm a new Star Wars fan, I love Veggie Straws, I worked at the OC Fair.
Alexandra Quinones, Staff Writer
Fun Facts:

I have a white pet bunny with red eyes.
One of my favorite memories would be titled "The water-bottle incident."
My friends describe...