Police seeking to book mother for the murder of 9-year-old Trinity Love Jones
Hang on for a minute...we're trying to find some more stories you might like.
The death of a young girl whose body was found inside a duffel bag along a hiking trail in Hacienda Heights earlier this week has been officially ruled a homicide, Los Angeles coroner's officials stated in an interview last Friday night.
According to an article published in the New York Times, 9-year-old Trinity Love Jones was the tragic victim in a murder play supposedly orchestrated by her mother and her mother's boyfriend. The mother of a 9-year-old girl has been arrested in Texas and extradited back to Southern California, officials said. Taquesta Graham, 28, was at the Los Angeles County Sheriff's station in Norwalk on Friday and held without bail for an unrelated parole violation, according to jail records. A criminal case naming Graham as a suspect in the death of her daughter is being prepared by sheriff's investigators for Los Angeles County prosecutors, officials said.
Graham's boyfriend, Emiel Lamar Hunt, 38, has already been booked on suspicion of murder and is now being held in lieu of a $2 million bail inside a downtown Los Angeles jail, sheriff's deputies said. Graham, a registered sex offender, was convicted in 2009 of enticing a minor female for prostitution. Hunt, who has a prior child abuse conviction from 2005, was taken into custody on March 9 near the San Diego International Airport. Evelyn Parra, sophomore, stated, "If the boyfriend was a registered sex offender, then the mother should have known better to let him into her daughter's life, no matter how immense her feelings were for him."
His arrest marked the culmination of a mystery about Trinity's identity after her body was discovered.
The sheriff's office released this statement about the case, "The victim was found partially inside a black rollaway type duffle bag … where her upper body was seen protruding. Although preliminary investigation initially led investigators to believe the victim was between the ages of seven and 10 years, further investigation with the Los Angeles County Department of Medical Examiner-Coroner determined the victim was a Black female between the ages of eight and 13. The young girl was found to be wearing a pink, long sleeve shirt with gray panda print pants. She stood at approx. 4 ft, 5 inches. tall and weighed about 55 lbs. No obvious signs of trauma were found on the victim's body."
Sophomore Cristina Pate stated , "Los Angeles has a lot of crazy people and the streets aren't safe.  I've run into weird people almost every time I went there."
Workers found her body in bushes near a popular trail. Investigators believed at the time that she was dumped there sometime on the evening of March 3.
About the Contributors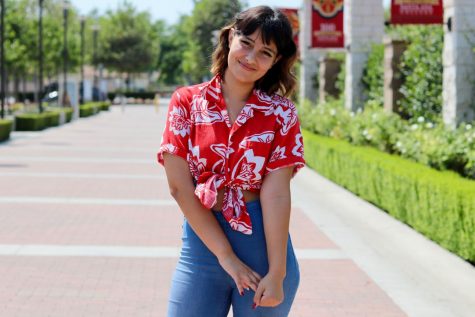 Grace Elson, Opinion Editor
Fun Facts:

I have about 800 hours on Fallout.
I've been skateboarding since I was 7.
My favorite band is Cage the Elephant.