Nipsey: The Messenger
Hang on for a minute...we're trying to find some more stories you might like.
On March 31st, 2019, a famously known artist by the name of Nipsey Hussle was fatally shot outside of his own store, Marathon Clothing, in South Los Angeles. The 29-year-old shooter, Eric Holder, was arrested and charged with murder on April 2nd, 2019. It feels as though, recently, famous artists such as Nipsey are being persecuted despite never having any ill intent towards others. Although I was personally not familiar with Nipsey Hussle as an artist, I learned about him through his true character: Ermias Joseph Asghedom, an entrepreneur, a community activist, and much more. Hussle was initially known for his popular mixtapes, then later being nominated for a Grammy at the beginning of this year for his debut album, "Victory Lap." But more importantly, Hussle's biggest motive was to focus on "giving solutions and inspirations to young black men like him."
It came to my understanding that through his work and influence, he condemned gun violence and even spoke openly about his experiences with gang culture, being once affiliated with the Rollin 60's Neighborhood Crips, a subgroup of the Crips gang, as a youth. I also found out that Hussle had arranged a meeting with LAPD officials and Roc Nation on April 1st (the day after the shooting) to discuss what could be done to prevent gang violence in South Los Angeles. Back in June of 2017, Nipsey launched the "Marathon Clothing" store at the intersection along the Crenshaw commercial district, the same neighborhood that he grew up in; he wanted to invest and provide opportunities to those in the area. Nipsey also began a coworking environment named Vector 90, where he intended to have young people take classes. All in all, Nipsey's motive behind every move he made in the industry, whether entertainment or business, was to give his community the opportunities to grow and encourage them to never settle for less than what they deserved.
The point that I'm trying to make here is that there wasn't any reason for this to have happened to him. Being a huge fan of the culture of music, I tend to view an artist beyond the art that they put out, and based off what I've read and learned about Nipsey, his philosophy on life was a powerful one. I truly believe that Nipsey understood what was best for those living in broken communities, especially one in which he grew up. There was so much he was willing to give and the opportunities and resources that he's provided are sure to remain in the far future. What shocks me the most is the idea that someone as giving and thoughtful as this man could have any harm done to him. For many, he was a grand artist, but for those who knew him personally, he was greater than what he did for the community, and he'll forever be remembered. During Nipsey's memorial at the Staples Center, Kendrick Lamar wrote a moving tribute to the late rapper: "A true King will be tested in adversity. To stand in fearlessness in what he believes will impact on earth, as well as in heaven. So thank you Nipsey The Radical. Nipsey The Husband. Nipsey The Friend. Nipsey The Great. And from now on, Nipsey The Messenger…… Shalom."
About the Contributors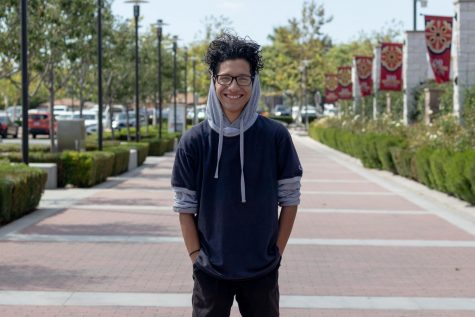 Jordan Avila, Columnist
Fun Facts:

I live in Tustin.
I want a Hydroflask.
I'm the guy on the microphone.