Underground Rap: The hidden gem of music
Hang on for a minute...we're trying to find some more stories you might like.
Envision the 1990s. Potentially one of the most influential decades in the past century, the 90s helped introduce people to all sorts of rap. So many popular songs, like "California Love" and "Still D.R.E." helped artists like Tupac and Dr. Dre gain immense popularity. On the other hand, many unknown rappers continued to produce music based on their view of the world and these are the songs that have only been heard by few people but gained an immense appreciation in the process. These rarely known songs make up what's known as "underground" rap.
"Underground" rap is a subgenre of rap that is composed of rarely known songs. Typically, most underground rap is real-life storytelling about serious topics in society. Whether it be police corruption, surviving on the streets, or finding a way to make money, underground rap puts these stories into a captivating song with impressive lyricism that manages to impress anyone that listens.
DJ Quik and Nas are two of the most popular and well-known underground artists, primarily because of their creative storytelling and lyricism ability. One of Quik's songs, "Jus Lyke Compton", tells four stories of him performing at different places throughout the United States: "And now, let me tell a little story/ About the places that I been to and the s*** that I been through/ Like fightin and shootouts and bangin and s***/ All because a n**** made a hit, check it." Throughout the song, Quik demonstrates his ability to combine stories and music into a perfect outcome. He talks about all the complications and problems he encountered during his tours and in the end, Quik realizes that everywhere he goes is "jus lyke Compton."
Whereas DJ Quik focuses more on storytelling, Nas focuses more on his lyrics. He's produced countless songs that prove why many people call him a lyrical genius. One of his songs, "Deja Vu", is a clear example of what Nas is capable of: "Live on the run, police paying me to give in my gun/ Trick my wisdom with the system that imprisoned my son." It's not until the second verse, however, that he really demonstrates his lyrical ability: "Blunts, thugs and alcohol, what a mixture / Just picture, ya life as a whole judged in court they convict ya / They telling you your state of mind, like you worthless / So he curses, his mom saying Bible verses / That's all she works with/ But miracles never leave the churches/ Instead, it hits the pockets of the Preacher just to purchase/ A house with a swimming pool, labels me a sinning fool." This verse has been widely regarded as one of the best in hip hop. Although Nas has gained some fame in the hip hop industry, he never got the recognition he deserved.
Sophomore Ryan Garcia was not familiar with underground rap but after listening to some lyrics, his views on underground rap changed drastically. He believes that underground rap should be more popular because of "the deep meanings embedded in the songs." Garcia also mentioned, "It's interesting and I would like to see what other meanings there could be." Senior Angel Hernandez also had some interesting things to say regarding underground rap. In comparison to Garcia, he occasionally does listen to some underground, primarily Nas. However, Hernandez also believes these underground songs deserve more recognition: "I think they should be more popular because the messages behind these songs serve a deeper meaning than the ones we have now."
Apart from Nas and Quik, there a number of other artists in the underground scene that are rarely known. Many of these songs were only heard by a few thousand people. Some examples of other rarely known songs include "Verbal Reality" by Xperadó, "Riches to Rags" by Mad Vibes, "Glory" by Lace Da Booms, and "Shine" by World & San. From Xperadó's "Gotta struggle just to stay alive/ Broken dreams and makin' millions since '85/ Many tried and died, eyes on paradise/ But I strive with pride till I see that afterlife" to Lace Da Booms', "For real, Corey is a correlation/ Of all them soldiers who went away on permanent vacation," all of these songs focus on life on the streets and how the conditions truly are. It's storytelling from the streets.
Even though there have been countless songs lost in the world of rap, many of those are slowly starting to emerge. Whether they deserved their popularity or not is a different topic of discussion, but one thing is for sure: the lyrics found in underground rap are the pure definition of street poetry.
About the Writer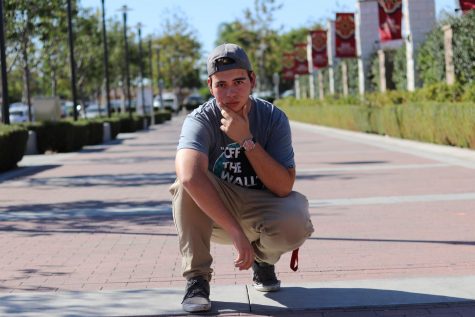 Franco Chavez, Sports Editor
Fun Facts:

I'm Peruvian.
I got my drivers license at 16.
My middle name is Danut.