Is Middle College High School meeting students' safety needs at night?
As the fall semester continues, the clock will soon take us back an hour. On November 3, daylight savings will end. We will go back to standard time at 2 a.m. This means darker nights than what we are currently experiencing. 
To illustrate a visual example, you could walk into your Math 219 course after 4/8th period, end your class as early as 4:50 p.m., and already start to see the sunset. For those taking a class that starts even later than 5 p.m., it's likely you won't see sunshine until the next morning. 
Earlier this year, at the start of daylight savings, the Washington Post shared a report from 2015: "The Review of Economics and Statistics found that extra daylight in the evening after the switch to DST led to a drop in crime that was not offset by increased crime during the darker morning hours. "'Robbery rates didn't increase in the morning, even though those hours were darker — apparently, criminals aren't early risers,' researchers Jennifer Doleac and Nicholas Sanders wrote in a Brookings Institution article."
During daylight savings, mornings are lighter, and nights seem as though they extend for longer times. In standard time, mornings are darker, nights feel shorter, and darkness feels like it catches us before we finish our duties for the day. With the sun setting as soon as 5 p.m., students taking late night classes are released to the outside darkness as they wait for their rides, or even ride the bus home. 
139 MCHS students completed a survey. 16.5% stated they are taking a night class and 20.1% are taking a class by themselves. Although this doesn't seem like many students, take into consideration that the freshmen class is taking their classes together in groups and during the school day hours. 
When the students were asked how often they think about their safety while on campus, their responses were: 15.1% selected Always, 17.3% Often, 33.1% Sometimes, 23% Rarely, and 11.5% Never.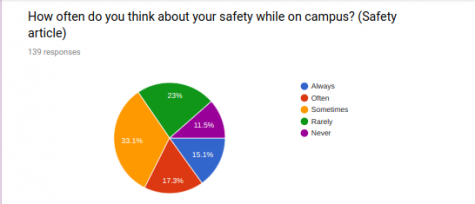 When on campus, we all have the right to feel safe and have our safety ensured. When asked how important student safety is to Mr. Voight, he responded, "It is my number one concern.''                                       
To ensure MCHS safety, Voight has taken measures to make sure every student has the SAC Security phone number, the LiveSafe App, and tutoring available Tuesday through Friday from 3 to 4p.m. in VL-301.
When asked what should be reported, Voight gave the following scenario, "if you see people that look like they don't belong on campus, or if you feel like someone is watching you or following you, immediately walk to a public place while dialing the security number, or hit the emergency button on the LiveSafe app, and get in contact with either SAC security or 911."
Another measure Voight is taking to ensure student safety is having B-11, or the Wellness Center, open from 4 to 7p.m. Monday through Thursday so when students are on campus waiting for their classes to start, or for their parents to pick them up, "they could stay outside of the wind, rain, and feel comfortable and safe."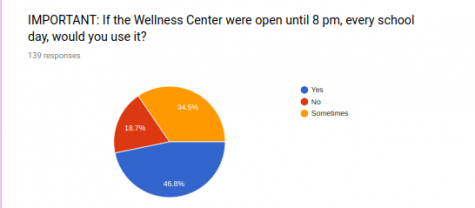 Junior Sandy Villalobos experienced a situation where she was approached by a stranger off campus grounds while on her way home from school. Although this situation was out of reach from MCHS staff, Sandy states her view on what the Wellness Center could offer to prevent a situation like hers from occurring to other students: "Currently I'm not taking any night classes but I know that if I had to I would have to stay at school and actually having a room with supervision that I can stay in would be extremely helpful." 
Although some students are not currently considering using the Wellness Center after school hours, popularity could progressively be gained and this would encourage students to work on their homework when in a safe environment with friends and peers. 
Villalobos added, "I also know that some of my friends stay on campus to do work or study but are discouraged after a while because they just don't feel comfortable."  
The Wellness Center after hours could be a safe haven that provides a safe and reliant space where you could study, spend time with friends, or get help on homework through tutors from the Engage 360 program, something Voight is planning at the moment. 
Senior Sarah Gutierrez also experienced a situation where she was approached by a college student after her night class. She reported it to SAC security and Voight, and it was handled. Reflecting on this incident, Gutierrez said, "I think Middle College should be more responsible. We never go through what we should do when a college student talks to us. That has never been brought up in the assemblies. The only thing that is brought up is having SAC Security phone number saved to your phone and that's it."
When asked if she would be interested in the Wellness Center after school hours, she said, "Mr. Voight talked to me, and I was interested in it because after school I usually go home until my class starts at 5:30, and I usually get there by 5p.m. So if it were open, I would just wait there and have my friends walk me to class. "
According to Mr. Voight, the soon-to-be Wellness Center after school hours is foreseen to take initiative by the beginning of November. 
MCHS is going in the right direction in providing a service that's much needed by acting upon the student needs seen through situations like these. As Voight's number one concern, student safety must be seen and addressed before situations like the ones stated in this article occur; same goes with other problems our students face and MCHS staff are unaware of. 
Above all, Middle College should listen to what students want them to contribute towards the betterment of our well being and safety.
Gutierrez proposed one resolution: "I would like to see more happen and I would like to hear it more in the assemblies so students are more aware of what to do." 
View Comments (4)
About the Contributor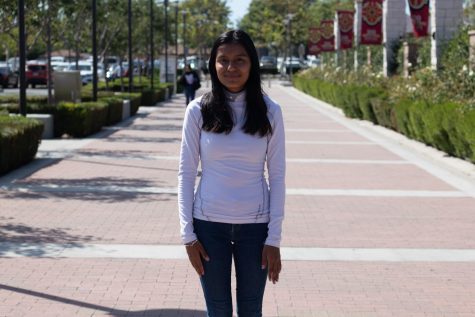 Emily Corona, Features Editor
Fun Facts:

I have a cat named Bootz.
Freddie Mercury is da best.
My favorite club is Wizards for Water.