Corporate America and the media push toward the inclusivity of tomorrow
In the last month, more inclusivity has been shown in consumer products and the media, specifically in toys and games. In September, Hasbro has shown the commercial for its latest Monopoly edition, Ms. Monopoly, and Mattel released its new Barbie dolls, one of which is inspired by the traditional Mexican holiday The Day of the Dead, and the others which are the gender-neutral dolls. This isn't the first show of inclusivity from Mattel though; earlier this year they released their Barbie Fashionistas line which included dolls of different races and physical disabilities and by doing this Mattel mentioned it allowed them to "showcase a multi-dimensional view of beauty and fashion."
In the past few years, Mattel has been making their Barbie line more inclusive; The New York Times interviewed one of Mattel's executives who led the team that designed the new dolls, Kim Culmone. Culmone mentioned that the dolls are "intended to reflect our culture" and that "as the world continues to celebrate the positive impact of inclusivity," they will continue to create more inclusive dolls. 
Some Middle College High School staff mentioned that they did indeed see the increase in inclusivity these last few years. English teacher Kathleen Peterson mentioned that the toy companies are "realizing that kids are changing." Peterson said that the fact that "kids are way more open and accepting" than most adults now is one of the reasons she believes this inclusivity is happening. She also mentioned that it's been this generation that helps push this movement because we don't seem to have a lot of prejudices by saying, "You guys just seem to want to end the hate and want to make people feel supported."
These toy companies are not the only groups trying to push toward more inclusivity, as lots of other mediums are trying to as well. It's not only groups doing this; though, people themselves are trying to show others that there is a lack of inclusivity in places. Sophomore Leslie Rangel also said that more people are speaking up to bring attention to the lack of inclusivity in some places. Rangel said, "More and more people are speaking out about not being included, which gives the media an eye-opening experience." Peterson also mentioned that books tackle inclusivity as well, and how more authors are writing about the people who are never really mentioned and helping. When Peterson was asked if she felt these efforts are making people feel more confident she replied, "Yeah. It's allowing people to stand up and say this is who I am, like me or not." 
Even though efforts towards inclusivity are being made, there are still things stopping it from advancing at a quicker pace. When asked about the movement towards inclusivity, Rangel said, "it's nice that they are trying to be inclusive, but they have problems when they receive backlash from the consumers." Rangel also mentions how even though people are trying to be more inclusive, some people don't like it and cause problems. She said that it might stop others from becoming more inclusive and continuing to be inclusive.  
Last year, around this time, Disney released a music video featuring the main female leads of almost everything they released that year. In it they talked about how females are strong, independent, and can do anything. This video was fittingly titled "Legendary," and in it were a lot of scenes empowering women, like: a girl becoming class president, a female robotics team winning and congratulating the second place female team as well, and a girls basketball player practicing her free throws and then shooting the winning shot. Not only that, but the lyrics are also empowering women; it's telling them to get included and speak out about not feeling apart of something. The song says,"Hard work always faceless/ It shouldn't matter what your gender or race is/ Show me someone who is better/And we can watch them when they crumble under pressure… All I'm asking/Is you open your mind/Do the right thing/Don't give up the fight/'Cause we didn't come here to cheer/We came to lead, we're right here/ So open your eyes and see/You can be legendary." 
Link to the commercial for the Gender Neutral dolls released by Mattel: https://twitter.com/Mattel/status/1176726868294135808?s=20
About the Contributor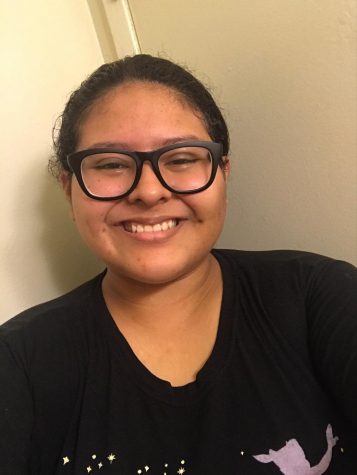 Rebecca Guerrero, Co-Editor-in-Chief
My favorite color is royal blue, I want to travel the world, and I love to sing with my niece.