Bipolar Weather
It's a cold, cloudy morning, and the chance of precipitation according to yesterday's forecast is 45%. A California high school student decides to wear a rain jacket and warm clothes for the day. Moments later, the student steps outside his home just to find out it's a hot and sunny day. It's just another typical day of California weather, in mid-November. 
California is known for its warm and sunny weather, but over the past recent years, the constant shift in weather has caused many people left wondering what's up.
Junior Ivan Estrada addresses this phenomenon.
"It feels like summer heat even though we're in the fall," he said. "Weather forecasts aren't reliable anymore." 
He believes the unusual weather has negative environmental impacts, such as deforestation and bad agriculture. However, he believes the weird weather will eventually balance out back to normal.
Some, however, feel the weather changes more than other years,  which is the case for senior Francisco Mendez. 
"It feels like last year is hotter than this year,"  said Mendez.
He mentions he has certainly noticed a difference in the weather from ten years ago to this current year. For example, he mentioned his third-grade year where he first witnessed hail and described how the hail pieces were much bigger compared to this year's hail.
Biology and Global Studies teacher Mrs. Groff believes the natural phenomenon is connected to something larger and more serious, climate change. 
"Ever since the Industrialization Era, CO2 levels have been rapidly increasing," said Groff.
She says it is negatively impacting areas around the world and is leading to many negative environmental impacts.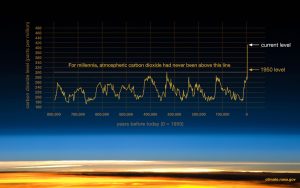 According to the graph, evidence from NASA depicts how high levels of greenhouse emissions are trapping most of the sunlight energy and are re-radiated as heat which causes the earth to become warmer. Most of the greenhouse emissions are caused by the pollution, which has been steadily increasing since the Industrial Era.
"There are several negative externalities caused by climate change, but there are also some positive effects," said Mrs. Groff.
There are droughts and floods which can affect agriculture, which leads to food insecurity and lack of resources. This later can cause turmoil and lead to geopolitical problems.
 However, "it gives opportunities for businesses to grow and can lead to people becoming more innovative," said Groff.
On the other hand, people's opinions on climate change vary greatly. Some believe it is present, however, it isn't as serious or consequential as other people believe. 
MCHS geography teacher Mr. Venenzuela explains why he believes climate change is benign.
"Since the 1800s the climate has risen only 1-degree Celcius," said Mr. V. 
He mentions how climate change is present, but isn't as serious as how politicians would portray it. He mentions that all climate change impacts are just "alarmism" which is an exaggerated form of a real or imagined threat.
People are surrounded by numerous different types of media that influence their beliefs in climate change, which is why everybody has different opinions on the climate or weather and it's unusual patterns but there's one thing certain, change is happening and everybody should be aware of it. 
About the Contributors
Andres Reyes, Staff Writer
Fun Facts:

16 years sober.
Beast Fortnite player.
Discovered that cockroaches have milk.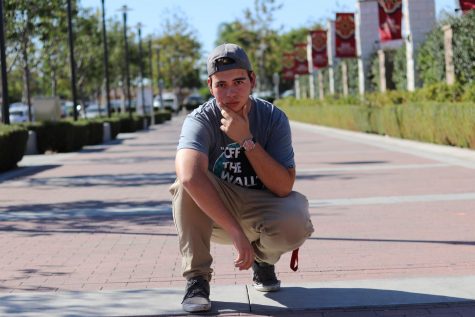 Franco Chavez, Sports Editor
Fun Facts:

I'm Peruvian.
I got my drivers license at 16.
My middle name is Danut.