The Spellbinder's January/February 2020 Music Playlist
Hang on for a minute...we're trying to find some more stories you might like.
Fun fact: did you know that during the month of January, breakups and divorce occur more frequently than any other month? Hello everyone and welcome to yet another music playlist. This time around, we have two themes for our playlist. The first theme, for January, consists of our favorite breakup/heartbreak songs. The second theme, for February, consists of our favorite love songs because of Valentine's Day. Each member put at least one breakup/heartbreak song or a love song and there is no particular order in which the songs are arranged. So whether you broke up with your significant other during January or are single for Valentine's Day, we have you covered. Enjoy the roller coaster of emotions our team has put together. As always, all songs can be found on Spotify and the link will be posted down below. We hope you enjoy it!
Love Playlist: https://open.spotify.com/playlist/5SXWYg5l1ISsFgN2KMd1P5?si=D2qMTjgbSZWaW2xJD684hw
Breakup/Heartbreak: https://open.spotify.com/playlist/5WWPwpiC9wYp87dm610U9N?si=HCPQO51eSF2B61COB8HgeQ
Mrs. Storms:
Demi Lovato – Sorry Not Sorry
Paul McCartney – Maybe I'm Amazed
Andres Reyes:
One Direction – What Makes You Beautiful
Bruno Mars – Grenade
Drake – Teenage Fever
Franco Chavez:
Taylor Swift – Mine
Taylor Swift – You Belong With Me
Chris Brown – Forever
La Mosca Tsé – Tsé – Para No Verte Mas
Alex Cervantes: 
Gerardo Ortiz – ¿Por Qué Terminamos?
Post Malone – I Fall Apart
blackbear – do re mi
OMI – Cheerleader
Stephanie Cervantes:
Lana Del Rey – Love song
Frank Ocean – Ivy
Noah Cyrus – July
Dylan Mai:
Green Day – Whatsername
Metallica – Nothing Else Matters
Maria Alegria:
Joan Sebastian – Me Gustas
Harry Styles – Falling
Priscila Castro:
DAY6 – I Loved You
Michael Jackson – You Rock My World
Emily Corona:
Queen – Need Your Loving Tonight
The Marías – I Don't Know You
Queen – Crazy Little Thing Called Love
Queen – Good Old Fashioned Lover Boy
Genesis Lopez:
Carlos Vives, Shakira – La Bicicleta
Jhené Aiko – While We're Young 
Jhené Aiko, Big Sean – None of Your Concern
Summer Walker – Just Like Me
Jazmin Chavira:
Rihanna – Love on the Brain
Beyonce – Single Ladies (Put a Ring on It)
Sahira Carino:
Selena – No Me Queda Más
Christopher Garcia:
Tessa Violet – Bad Ideas
SURL – Dry Flower
Daniel Salazar:
Tessa Violet – Games
Mitski – Nobody
Mitski – First Love / Late Spring
Emanuel Negrete:
Daddy Yankee – La Despedida
La Oreja de Van Gogh – Rosas
Rebecca Guerrero:
Kelly Clarkson – Since U Been Gone
Scarlett Johannson – Set It All Free
Viviana Rivera:
Cornelio Vega y su Dinastia – No Me Hubiera Enamorado
Banda MS – Me Vas a Extrañar 
Grupo Firme – Pideme
Banda El Recodo – La Mejor De Todas
About the Contributor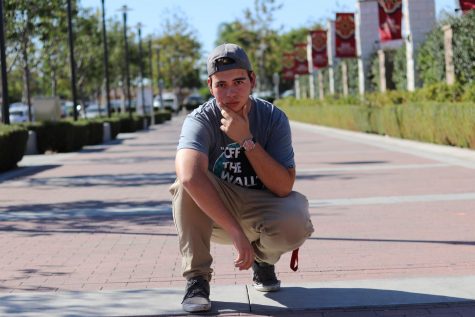 Franco Chavez, Sports Editor
Fun Facts:

I'm Peruvian.
I got my drivers license at 16.
My middle name is Danut.