How MCHS students are dealing with virtual learning
Fingers hitting keys on the computer, pen caps clicking to lock in place, chairs creaking due to movement, family members' muffled voices talking through the door, and  the distinct sound of the Zoom chime. These might be some of the sounds that Middle College students hear at home while attending class. The new fall semester has gone completely online, and students have to learn virtually through computers instead of face to face. 
As we are approaching the mid-semester craze, students have had the time to adjust to online virtual learning environments at home. They have been able to get in the pattern of waking up for classes, attending classes, and completing homework assignments afterwards. For some students, this virtual online environment has worked well for them, while others not so well. 
Junior Andy Guillen said that he has been able to adjust pretty well to online classes, but that it isn't the same.
"I can completely handle the work we've been assigned, the thing is for like my weaker subject, like math, I'm finishing the homework but I don't feel like I'm learning," he said. 
Guillen is not the only one who has to overcome some barriers through virtual learning. In an MCHS survey on how students are dealing with online, many students have mentioned what kinds of obstacles they overcome while attending class at home.
One student said, "I find it extremely hard to concentrate. There is a lot going on in my house and after watching class for so long I get tired and zone out. It is so draining." 
While students might struggle, others feel like it is a blessing in disguise. 
"As an extreme introvert, I enjoy it. I never liked the company of my classmates, they always made me go insane…but I feel like it wasn't really their fault," they said.
The MCHS survey included a question in which students were asked if they had the option of choosing between staying online or going back to school, a majority of the students would prefer to go back, including sophomore Kimberly Lopez.
Lopez stated, "I would choose to go back to school because I actually miss having my friends around and having the teachers around to help." 
A lot of the students mentioned that they would like to go back for the in-person interaction of other students and teachers. There is a distinct difference between being at home and being at school that students do not have anymore. It is a struggle that many students deal with. 
Sophomore Cecy Rivera stated, "I think that it's easier to procrastinate, just lay in your bed and not do anything because you know like 'it's right here, I'll do it eventually.'"
She is also one of those students who struggles with it.
"
You have to find a balance between having your breaks and getting to work."
— Cecy Rivera
Through these unprecedented times, students have had to work twice as hard to continue on with the school year. As students will continue to work, there is hope that things will get better.
View Comments (12)
About the Contributor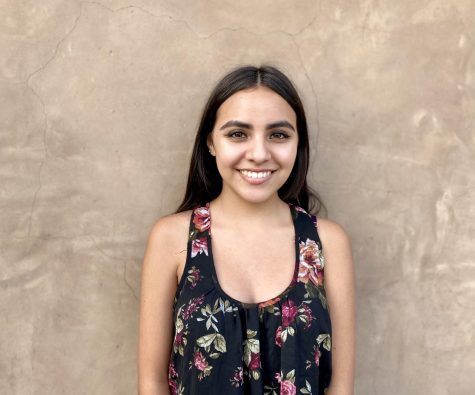 Fabiola Gomez, Staff Writer




My favorite animal is a llama, I love rings and I wear 10 of them on my hands every day, and I'm 5'0".