Are OC high school sports cancelled for 2020-2021 amid Coronavirus crisis?
Stands full of cheering students, coaches and athletes putting their all out on the field, the smell of cheap food stands, the thrill, the excitement, and all the memories. Is that all it will be, a memory of how high school sports used to be?
Amid the coronavirus crisis nearly everything for the 2020-2021 school year has been cancelled or pushed back, so what will become of high school sports in Orange County?
With Orange County being off the state watch list since August 23, 2020, cities have slowly begun to open up again. With news that students and staff can begin the process of going back to in-person learning, one may begin to wonder if the same rules apply to intense, contact high school sports.
Many students around Orange County began to worry that they may never get to run out onto the field again, especially seniors, because this could have been their last chance to ever represent their schools again. El Modena High School senior Nathaniel Valencia, who has been in varsity track and field since his sophomore year, said that, "I am hoping to go to school on a sports scholarship… so this year was important to me for my athletic career."
He also said, "Track is pretty important to me. It taught me a lot of life lessons these past four years."
With the impact of the coronavirus, schools were shut down almost immediately, ending the year to sports abruptly. Athletes did not know if they should keep on training for the season or hang up their uniforms and call it quits. The El Modena Track and Field coach made sure his athletes kept in shape. 
Valencia talked about his coaches' responses.
"He would text us to stay active and get outside, by yourself, to follow regulations," Valencia stated.
The same was true for many athletes around Orange County. Even now, schools have allowed coaches and athletes to come together for in-person training. This is all in a set schedule and not all of the athletes are allowed to come. They have to follow new rules like wearing face masks, staying apart as much as possible, and getting their temperatures checked each session. So even though there are changes, things are looking promising for student athletes across Orange County.
With many schools allowing practices for their sports teams to start up again, some schools in Santa Ana seem to be a few steps behind. Those schools would be Middle College High School and their rivals, Lorin Griset and Cesar Chavez.
Wondering what is to become of sports at Middle College High School, football Coach Rafael Ramos said, "It is also based on what the other schools do, so if the other schools resume their sports then Middle College Principal Damon Voight said we will attempt to resume our sports also."
He went on to talk about why Middle College is different and why it can't follow in the footsteps of its neighboring high schools. 
"For us it's obviously very different because we're not a part of an official league that has an official schedule for every team. For us it works if Griset and Chavez agree to do it."
At the end of the day, Middle College teachers and staff are as clueless as the students are for when they can begin to look forward to cheering on their fellow Wizards.  But Ramos wanted to let the school and his team know that, "I wanna get back on the field as much as you guys. As soon as I get some directive I will definitely get my athletes to begin to train."
About the Contributor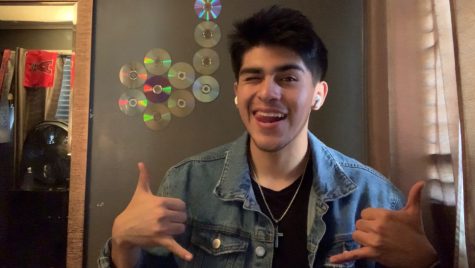 David Joaquin, Staff Writer




I strike a random pose in every picture I'm in, the only time I'm not listening to music is when my AirPods are charging, and soccer is...