Online learning is not working
Loading ...
Black screens and crickets; that's the new norm for schools with online classes as a result of COVID-19. Due to the pandemic we find ourselves in, many things have changed. We have had to adapt to the social distancing guidelines which has affected everyday life. Students were moved to online classes last March, and while some have gradually gone back to in-person classes, the same cannot be said for schools in Orange County.
Middle College High School students have the added stress of college classes along with high school classes. Due to Santa Ana College's preference for staying online this semester, Middle College will most likely be staying online for the rest of the fall semester.
While some classes and teachers found it easy to adapt to the online environment, there are certain classes that are difficult to do online. 
Drama and English teacher Mrs. Silverstein stated that the biggest challenge that has become apparent to her with the system of online learning is the setting. Problems arise when students can't find a physical space to concentrate on their school work. There are potential distractions from siblings, parents, outside noises, and more. 
When prompted about advice for kids to be as successful as possible in the online learning environment Silverstein said, "Find the best way you can to actively participate in your classes whether that's in the chat, whether that's by turning on video or just audio whatever way you can be active in your class is going to be the best for you because otherwise, it's so easy to become distracted by the things behind and around you."
Silverstein claims that "the inability to see facial cues" is a big problem with online learning. As a teacher who prides herself on being great at communicating with students and reading physical cues, she now finds it difficult to see if students are confused or having problems as many decide to turn their video off and mute themselves during class Zoom meetings. 
Not being able to get to know her students and understand what they are going through is "creating a distance that I'm not fond of" as the virtual setting doesn't allow it.
Getting students to participate is another feat in and of itself. To tackle this problem, Silverstein has tried many different programs, and one solution that has worked in her classes is breakout rooms. She finds that students are more willing to speak up if it in front of a group of fewer people. She also allowed her students to choose one classmate who they would be guaranteed to be with.
"My students are in homerooms, so they got to pick a partner and were guaranteed that they'd be with at least one person they were comfortable within their home groups." 
While she and many other teachers have tried a little bit of everything, senior Cristina Alvizo voiced frustrations that many students are feeling with online learning. 
She stated that in certain classes it feels less like she is being taught and more like she has to teach herself the subjects. 
"They [some teachers] aren't really trying to teach, it seems like they are just reading off of a presentation."
As stated by Silverstein, students also believe that the lack of a physical learning structure is a problem. Many lose interest rather quickly and feel less motivated to do schoolwork as they are in their homes all day. When asked if her home situation was potentially distracting or a hindrance in completing assignments and Zoom classes, Alvizo said it was.
"I think that for me and probably many others privacy is difficult to get, especially in a home with a lot of people," she said.
Overall, we can see that being online is not only affecting students, but it affects the teachers as well. There needs to be more communication, now more than ever, between the two groups. Online schooling proves difficult due to internet connectivity issues, home distractions, and a lack of structure that is discouraging for some students.
View Comments (6)
About the Contributor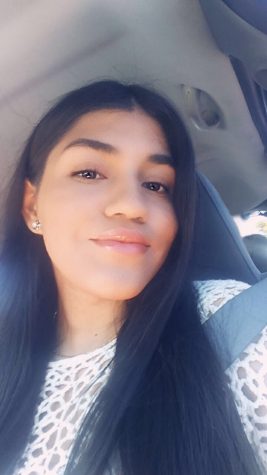 Evelyn Gudino, Opinion Editor
I learned all the countries of the world over the first months of quarantine, I love watching/reading about crimes and my comfort show is "Supernatural."