How the increase of human trafficking can be changed through awareness
The number of cases for human trafficking has increased in the year 2020.
Human trafficking may occur anywhere, even in the most unexpected places. Sex and labor trafficking are occurring in California and some people aren't aware of it.
"
Human trafficking is the second largest criminal activity in the world."
— Kendis Parls, Executive Director of Truckers Against Trafficking
According to the U.S. National Human Trafficking Hotline Statistics, California had 1,507 human trafficking cases in 2019. In comparison to other states in the United States, California was the state with the highest number of cases.
Sex and labor traffickers are recruiting young people and exploiting them for the profit gained. 
A recent case appeared in Long Beach, California. 
In September of this year, there were three missing girls who were rescued from being trafficked into prostitution in Long Beach as stated in KTLA News. 
Human trafficking survivor, Annika Mack, provides her view on human trafficking.
"Human trafficking happens all around us and we don't even notice it. For me, if somebody said they cared about me it would have been enough," said Mack. 
There are many organizations in California that promote, educate, and advocate to end human trafficking. Some of those organizations are Truckers Against Trafficking, The Global Center for Women and Justice, and Sisters of St. Joseph of Orange. Organizations also reach out to survivors to help them spread their powerful message on their encounter with human trafficking. Their story helps others gain confidence in seeking help and the comfort needed to heal. 
The director of Sisters of St. Joseph of Orange, Maria Elena Perales, contributes her idea of what a human trafficker survivor goes through. 
"Once a person is rescued, he or she is no longer a victim; they become survivors. Once a person is rescued that's not the end of it. They have to deal with a lot of trauma, they are scared, and have to deal with lots of trust issues. After what they've gone through, how can they trust anyone," said Perales. 
The act of human trafficking affects those who have been trafficked and creates an overall awareness to get others involved.
Vanguard University professor Ruthi Hanchett, who raises awareness and trains on the issues of human trafficking through The Global Center for Women and Justice at Vanguard in Costa Mesa, gave her input on labor trafficking. 
"Products we buy such as clothing can be made by people who are enslaved. At the end of the day, we all contribute to the problem of slavery," said Hanchett. 
Now more than ever, people have been experiencing human trafficking in front of our own eyes and it's up to us as a society to bring about change. 
"People need to be more educated and aware of human trafficking because you might think you are safe but in reality, you are not. Anything can go wrong and we have to become aware of our surroundings and pay close attention to what is going on," said Perales.
View Comments (17)
About the Contributor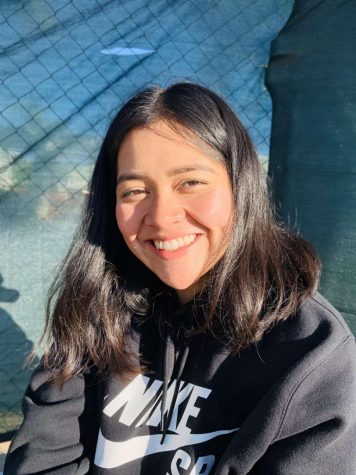 Aliris Gonzalez, Staff Writer




I love to dance, I have a weakness for babies, and I am very sensitive.