Author Candi Sary's annual visit to sophomore book club inspires young writers
Turquoise jacket, turquoise earrings, turquoise nail polish. This is Candi Sary. Sary is a published author, who is a personal friend of teacher Mrs. Peterson, and Sary loves to dress in turquoise no matter what.
Candi Sary, the author of "Black Crow White Lie," came to our school to discuss her book with some of the sophomore class last Friday, April 14. The meeting was held in Mrs. Peterson's room because she was the one who organized the book club. Sary came to speak on the wisdom she gained through becoming an author. 
I attended the meeting myself and read "Black Crow White Lie," and I think the book is very interesting. There are a lot of things to analyze like the dynamics between the characters and how the characters' bonds affect each other. Many three-dimensional characters are developed in the plot, yet there are also characters included that are two-dimensional. There are many twists in the book that entice the reader. 
"Black Crow White Lie" is Sary's first published novel for which she has won awards, including the William Faulkner-William Wisdom Creative Writing Competition. During the book club, she mentioned how she had had many drafts that got turned down by many publishers before her success. 
"Not a failure, until you give up," Sary said.
The students asked Sary about her strategies for inspiration and how she dealt with writer's block. 
"I am convinced that writer's block is when I am trying to get a character to do something that I want the character to do, but the character is not wanting to do that. And so, the block is not making sense. The character is not meant to be doing that… and it's not meant to be part of the story," Sary said.
Sary, before pursuing her dream of writing, was studying psychology; she mentioned that it also helped her when building the characters for her books. 
"It helps to know them [the characters], and it gets it to feel more natural," Sary said.
As a writer, Sary mentioned that she felt vulnerable to publishing her work because it was a piece of her that she was showing the world. Through this vulnerability, she appreciated the feedback and the constructive criticism she received; however, the negative feedback without explanation made her feel frustrated.  
"Your writing is like a turquoise house; some will like it, others won't," said Sary. 
Now, Sary mentioned that she is publishing a new book that she named "Magdalena." She says this book will speak on Juliette, the main character's mom in "Black Crow White Lie." It lets the reader know more about her and how events in her earlier life impacted her later life. 
Students there thought that the book club was a beneficial and enjoyable experience for them.   
"[Black Crow White Lie] really captivated me, and I just kept on wanting to read more and more… I like how everyone got to speak with Candi Sary and how everyone respected what others had to say," sophomore Karely Salazar said.
Overall, students appreciated this experience with Sary, and they enjoyed the book as well as the advice she shared. 
"[Black Crow White Lie] was nice because it is not the kind of book that I read. I read more fiction like magic powers, but this one was more realistic so it felt nice to read that genre. I agree with [the advice she shared]. She is a writer, first of all, so she kind of knows what she is saying," sophomore Oscar Hernandez said. 
Lastly, Sary shared a piece of advice for all those who are aspiring authors. 
She said, "Just write. It's okay to write bad, great writers read bad authors. Stay curious. Observe, writing is trying new ways to tell a story."
About the Contributor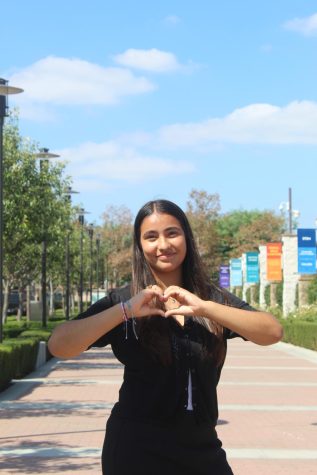 Emily Lombarde, Features Editor



I am a Swiftie, I love to read romance books, and I have a bunny.