SAPD reaches out to the community to help solve cold cases with a new video series
In the city of Santa Ana, some families are filled with sorrow and a sense of emptiness. The families aren't smiling yet they remember the smiles, sparkling eyes, and the warm heart of their lost companion. It has been months or years since they lost their loved one, and they haven't heard anything about their case. All that the families want is justice for their family members and now they are one step closer to achieving that.
 There are roughly 500 homicides in Santa Ana that are unsolved, leaving those families and friends in grief. 
As a response, the Santa Ana Police Department developed a new video series on August 30, 2020. The video series is called "For the Record: A Homicide Spotlight"; stated Commander Jose Gonzalez, it "will be produced monthly to draw attention to unsolved homicides and cold case investigations. All segments will be shared via social media to encourage the community's assistance in capturing the suspects with the ultimate goal of providing closure to grieving families and friends." The video series will be released on social media platforms such as YouTube and Instagram under the Santa Ana Police Department's account.
The Public Information Officer Anthony Bertagna has provided some information regarding the video series as a whole. First and foremost, it's a collaboration between the detectives, the Media Relations team, and the families. Twelve detectives are contacted and asked about their cold cases. Then, the Media Relations team begin to work on a video featuring the family in which they explain the impact the homicide has had on them. 
The first segment was released on the one-year anniversary of Victoria Barrios, an 18-year-old who was shot by a moving vehicle on Pine and Hickory street on August 30, 2019. In the video, her mother Eva Barrios said, "Victoria was a bright kind-hearted well-spoken girl with a lot of friends due to the fact that she did not judge people….those cowards responsible will never know what they took from us, they will know how their actions have changed our lives forever." 
The Barrios family went as far as putting up billboards around town with Victoria's image and the question "Who killed my daughter?" Now, they have been featured in the video series all in hopes to draw attention to their case.
One of the most recent segments features Andrew Loera, an 18-year-old who was stabbed in an outdoor party on 2020 South Eastwood Avenue on August 19, 2018. In the video, his sister Arisdelssy Loera said, "It makes me really sad that I'll never get to see what he grows up to be." 
According to Andrew's mother, Maria Elena Carrera, and his sister, he was an athlete at Godinez Fundamental High School, he had bought himself a car, had just enrolled at Santa Ana College, and had wanted to become a police officer. He had so many things to look forward to, but that was ripped away from him.
In an interview conducted with Andrew's father, Victor Luciano he said, "My son won't return…it hurts that they've taken him away from me." Throughout the whole situation, he has tried to stay calm and let his wounds heal. However, he does believe that in the future someone's conscience will get them to speak up.
Loera stated, "I know my family is hurting and his friends are hurting and I just wanna do what I can to make this better for them."
Santa Ana Police Department
A Middle College student who has commented anonymously said the following about the video series, "They (SAPD) are helping not only by bringing families and victims justice but they are also helping the community by spreading awareness." The student goes on to say that they are happy that the SAPD are taking these steps in order to provide closure to families.
As members of the community, the families ask us to help find any information. I encourage you to go on YouTube and take a look at the other videos. Together we can convince the witnesses to speak up, capture the culprits, and achieve justice for the victims.
For any possible information on Victoria Barrios, you can visit the following webpage: https://justiceforvictoriabarrios.com/. This webpage has more resources that you can access. 
For any possible information on Andrew Loera, you can contact homicide detective McLeod at 714-245-8390, keep in mind that you can provide information anonymously.
Stay tuned for this month's segment coming out on December 13, 2020.
About the Contributor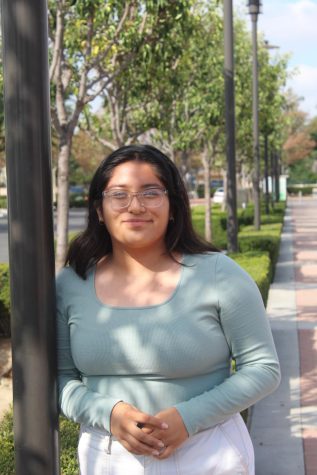 Esmeralda Coeto Medina, Community News Editor
My favorite animal is a polar bear, I love strawberries, and my favorite subject is biology.