Music review: "Superbloom"
After nine years in one of the most popular bands from Australia, 5 Seconds of Summer (5SOS), Ashton Irwin released his solo album "Superbloom" on October 23. 26-year-old Irwin has been drumming in the band since he was 17-years-old and has only made little appearances singing in some songs. Irwin's most famous singing moments are from the songs "If Walls Can Talk" and "She's Kinda Hot" where at most he only sings a verse. 
As expected, many fans were surprised on September 23, when Irwin took to social media to announce "Superbloom." 
Senior Chachi Martin said, "To be honest it caught me a bit by surprise that Ashton made a solo album," but that she was excited when she read the announcement. 
Most fans were confused because Irwin never mentioned anything about working on his own music but they were not complaining. The last album that fans got was released back in March. 
 Irwin's solo album talks more about serious topics such as suicide, eating disorders, and other subjects which aren't usually mentioned in the band. 
"I felt proud. Proud that Ashton made a great album. Proud that Ashton was able to talk about serious subjects," Martin said when asked about her feelings toward Irwin's choice to mention these hardships. 
Irwin starts off his album with "Scar," which is a rock song that centers around the subject of suicide. During the promotion of this single, he took to Instagram and wrote, "Please hold on. Please don't quit, please don't let go, please remember you're loved. Please don't commit suicide." The lyrics can be interpreted that Irwin is singing to his family explaining that he's in pain but wishes the best for them. Irwin has been open about his mental health and there had been rumors that the song "Invisible" by 5SOS is about his suicide attempts. It was an unexpected but necessary way to begin his album.
The third song on the album is "Skinny Skinny," where Irwin tackles the topic of body dysmorphia. This is also the only song with a music video which brings this issue to life. Irwin wrote, "I wanted to capture what it feels like to struggle not feeling at home in your own body," which I have never seen done before in a music video. Another hard subject that Irwin talks about is eating disorders. In the lyric "My fingers stretching into my larynx," he is referring to bulimia which 4.7 million females and 1.5 million males in the United States suffer from.
 "I think that talking about body dysmorphia and eating disorders are relevant and serious issues," Martin said in our discussion of "Skinny Skinny." In the music video, Irwin smashes the mirrors as a way of breaking free from his mindset.
The six minute song "Greyhound" is powerful and energetic while communicating the message of working hard but never getting anything in return. Irwin went on an Instagram Live where he said that in Hornsby, Australia, where he grew up, there were greyhound races. He explained that the dogs would chase a fake rabbit during these races and if they didn't win, they would be put down. On Irwin's Instagram post explaining "Greyhound," he said, "In this song I use the greyhound race as a metaphor for people that work themselves to death." In this song, fans get to hear the strength and grunge of Irwin's voice that they are not used to. 
In the song "Sunshine," Irwin said that the lighter sounding song is about "media consumption, self love, and a touch of how it's felt to be in quarantine." He said that "Superbloom" was made during the outbreak of COVID-19 so it makes sense that he made a song expressing how quarantine has made him feel. In this song, it can be interpreted that Irwin's message is to remind his audience to appreciate the little things in life without breaking down when something bad happens in the world. The lyrics, "See the sunshine just like the first time, not just today, not just tomorrow but now till forever and ever," is meant to communicate that even seeing your shadow on the pavement is something to appreciate. 
The influential album where Irwin expressed himself as an artist ends with a shocking conclusion. The last track is "Perfect Lie" where Irwin reviews the band's older music. On his Instagram livestream, he said that "Voodoo Doll" is now a song that he dislikes and the only reason he plays it is for his fans. I interpreted that this song was meant to express that Irwin knows that the band's older music brought them to popularity but he is no longer proud of those songs. He wants to create music with more meaningful messages than what 5SOS has put out. This album is a perfect example of releasing songs that are about harder subjects that most of us are going through. 
When listening to this album, I wondered if there have been other artists who are making music about similar subjects that Irwin wrote about.
 "A group that I know that have contributed to this sort of topic is, of course, BTS," junior Lillian Le said. 
Le said that an obstacle she faces while listening to BTS is that she doesn't fully understand the lyrics.
 "If you take the time to learn what their message is and what they are saying you can see that sometimes they are talking about more pressing issues rather than love and heartbreak," said Le.
Le said that every artist sings about heartbreak but it's "Songs that talk about loving oneself and dealing with the anxiety and depression that draws fans in." 
I couldn't agree more because the 5SOS fandom feels closer to Irwin more than ever. 
View Comments (1)
About the Contributor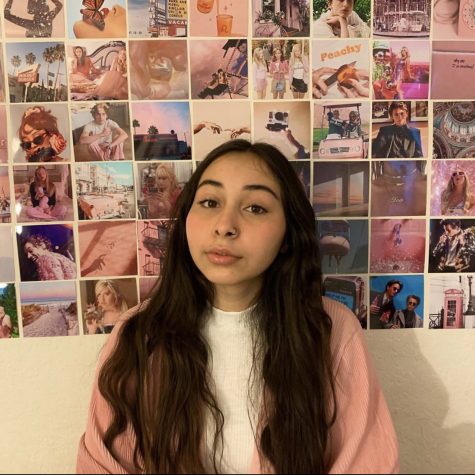 Jaquelyn Robledo, Staff Writer




I have a big obsession with boybands, I wear red almost every day, and I can name every baseball team out of memory.