We may be from different families, but we celebrate Christmas the same way
Walking into my house you will see red and white Christmas lights. You'll notice an inflatable Santa Claus and an inflatable penguin. Right next to them there will be a family of reindeer, a dad, a mom, and a little baby wrapped around with white Christmas lights. There you'll also see two swings and two trees wrapped with red and white Christmas lights lighting up the house. The windows light up the wall of the house with a white light as bright as snow. 
To begin with, Christmas is celebrated differently in many cultures. In the Mexican culture it is mostly a religious celebration. Christmas in a Hispanic household is about celebrating Christ's birth and everyone being together like family. 
Sophomore Dasha Cordon said, "I don't think that Christmas is losing its meaning because Christmas is a really religious holiday, and it's mostly about family being together." 
Christmas has kept its true meaning and it has brought many people back together. Christmas is the holiday of joy and it should be celebrated with the ones you love.
Cordon said, "Some traditions I have are going to parties at church since my family is really religious. I go visit my mom's side of the family on Christmas Eve and my dad's side of the family on Christmas Day."
In addition, the Hispanic culture celebrates Christmas in different ways. The Hispanic families vary and can either celebrate religiously or celebrate it as a get-together. 
Sophomore Nicholas Cisneros said, " I don't think that Christmas is losing its meaning because it is a time where we all come together as a family." 
Christmas is a holiday for families to come together and celebrate. They leave the past behind them and have fun. 
Cisneros said, "My family celebrates Christmas by eating, playing games, and opening presents. One of our traditions is that we have a bonfire in the backyard where we make s'mores and we all just talk to each other and have a fun time." 
We all have our traditions that we do during Christmas with our families. It is a chance to get together and have fun with the ones we love the most.
Cisneros said, "We plan on cooking a large ham this year and some other foods like tamales, mac and cheese, and mashed potatoes. We like to do fun activities like gingerbread house contests for the kids, playing monopoly, and Jenga. Our family made a decision that we will not let the pandemic interfere with the way we spend our holiday."
Many families have different traditions for Christmas. There are many different ways to celebrate Christmas, for example the Vietnamese way. Some of the Vietnamese have similar Christmas celebrations.
Senior Vivian Mai said, "Since Vietnam was actually colonized, a portion of us are Catholic. Many Catholic Vietnamese people celebrate Christmas by exchanging gifts which is similar to other cultures."
Some Vietnamese have very similar traditions to most Americans and other cultures. 
Mai said, " Christmas is technically a religious holiday, and it's adapted into something much more palatable for all cultures. Nothing ever loses its meaning, its meaning just changes." 
Christmas has adapted into being a holiday where most cultures are able to celebrate it. 
Mai said, "We don't really cook anything special for Christmas, we just make Vietnamese food like Bê Thui, Bún Bò Huế, etc. We would usually sit around and talk to each other on Christmas, but since the pandemic hit this year I don't think we will this year."
Mai's family celebrates it by exchanging gifts, visiting family, and preparing for the Lunar New Year which is really important to Vietnamese people. 
Christmas has changed and can be celebrated in many different ways.
Since this year may feel different because of Coronavirus, we still have to look on the bright side of things and enjoy the time with our families. Christmas is changing, and it has become a holiday for many families to just come together, some families to celebrate religion, and some families to get to show off their cooking skills. 
About the Contributor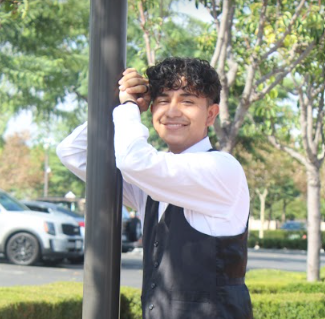 Juan Alvarado, Staff Writer



I like to draw, I like to play video games, and I like to play soccer.