Signs of a bright future emerge for DACA after election results
With the uncertainty many DACA recipients faced in the last presidential term, this year's Presidential election is very important. Now that the results are in, they appear to have a bright future ahead of them.
President-elect Joe Biden claims he will make DACA permanent on his first day in office as stated by NPR News. This would mark a new beginning for Dreamers and grant them a secure stay.
DACA, Deferred Action for Childhood Arrivals, is "a policy calling for deferred action for certain undocumented young people who came to the U.S. as children," as stated on immigrationequality.org. It gives young people hope for a better future.
Olga Hernandez is a DACA recipient who attended Orange Coast Community College in 2009 and now is a sales associate at a local Nordstrom. Hernandez believes DACA has been a great benefit for her and others.
"Daca is the best thing that ever happened to a teenager that was brought here illegally for a better future. Daca represents to me a better future and better opportunities for me and my family," said Hernandez.
DACA may only be for the children but it benefits their families as well.
The dreamers have been integrated into the US and should be able to stay here permanently.
"We grew up here, we don't want to look just like a dreamer. We want to be able to feel like this is our country too, be able to vote and travel," said Hernandez.
Arlene Quinonez, Family and Community Liaison at Middle College, explains how the U.S. is the dreamers' home.
"They have their friends here, they have gone to school here, and have built their lives here. Just like many others, they are working towards a better future for themselves and their families. For most, this is really the only home they've ever known and to take that away is cruel and unjust," said Quinonez.
Some DACA recipients have come to the U.S. because their home country did not provide them safety or opportunities. The U.S. is the only home they know.
Providing them a path to citizenship is something President-elect Joe Biden plans to impose.
"As for new policy implementation, Biden says he will 'modernize' the nation's immigration infrastructure, vowing, on Day 1, to send legislation to Congress that would offer a pathway to citizenship for the estimated 11 million undocumented people in the country," stated NPR News.
A pathway to citizenship would benefit millions of undocumented people but specifically the dreamers. It will provide them with security for their future.
"I hope he does bring these positive changes to our DACA recipients and provides them with a sense of security and certainty of their future," said Quinonez.
The results of the Presidential elections gave Dreamers relief after the past stressful years and great hope.
"After speaking to some friends who are DACA students, they feel encouraged and a sense of relief, also a little bit more secure. I know they were living with high stress and fear these past couple years, not knowing what may happen to them. Now that we have the election results, they feel hopeful that the new President-elect will reinstate DACA and provide more opportunities," said Quinonez.
View Comments (4)
About the Contributor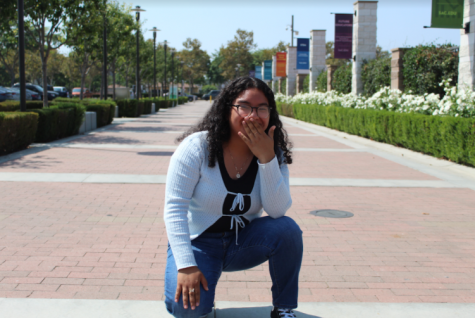 Maria Alegria, Co-Editor-In-Chief
I love my dog, Roxy. I'm left-handed. I live in a blue house.