LGBTQ students need safety and representation in schools
In 2017 approximately 1,300,000 million students in the United States identified themselves as LGBTQ, according to the CDC. LGBTQ students should feel safe at school, and they should see themselves represented in what they are learning. 
Lindsey Etheridge, who is a LGBTQ Coordinator on contract with SAUSD said, "LGBTQ students face a unique set of challenges both in life and at school, and they carry the burden of these additional challenges into their learning spaces."
According to an article by publicschoolsfirstnc.org, only 26% of LGBTQ students feel safe at school all the time. It also states that only one in five transgender and nonbinary youth reported having their pronouns respected by all or most of the people in their lives. 
Not supporting LGBTQ youth in education causes tremendous harm to them. LGBTQ students are more than twice as likely to commit suicide then straight students. 
The Trevor Project is an organization that focuses on suicide prevention of LGBTQ youth. The website is blocked on SAUSD devices and listed under the category of "AlternativeSexualLifestyles."
When asked about whether he felt it was easier learning in a safe and non-judgemental space, junior Armando Echeverria stated, "I do feel a lot safer; I feel like being in a zone where it's judgement free whether it be from your teachers or your peers when everything about you is put aside it makes it an easier learning environment so you're more focused on what the curriculum for whatever your learning is."
Ian Barnard, the Director of the LGBTQ studies program at Chapman University, said, "I don't think the classroom should be a space for people to cause damage." They also stated, "Teachers have to know that every single class is gonna have at least some LGBTQ students in it."
When asked about what teachers can do to make students feel supported, Echeverria spoke about how it's important for teachers to use the right pronouns. 
Etheridge also stated the importance of pronouns, "Including our own pronouns in online display names and email signatures, and encouraging others to do the same, is another simple way we can support our transgender/non-binary students."
According to the same article by publicschoolsfirstnc.org, it is stated that only 5% of LGBTQ youth say that all of the teachers and staff at their schools support LGBTQ people. 
As well as feeling safe in schools, LGBTQ students should feel represented in their school's curriculum and should know what they have to contribute to their academic careers because of their identity. 
An Instagram poll found that out of 64 people, 60 said that there was not enough LGBTQ representation in school curriculum. 
Echeverria also spoke about a time when he felt included in his World History class.
"The fact that he allowed that inclusivity really made me feel good, that not just I'm being represented but the LGBTQ community as a whole."
In 2011 California became the first state that required schools to teach LGBTQ history. However, implementation is slow. 
According to the article "These States Require Schools to Teach LGBTQ History" by Casey Leins, it is stated "Pushback from state officials, conservative groups and parents is one of the reasons why the law's implementation has been so slow in California, which didn't approve its first LGBT-inclusive textbooks for K-8 classrooms until 2017."
Barnard also stated the importance of integrating LGBTQ into academic work.
 "It has to be integrated throughout the course so that students realize that these are things they can talk about, these are things they can write about, readings have to be integrated throughout the course," they said.
About the Contributor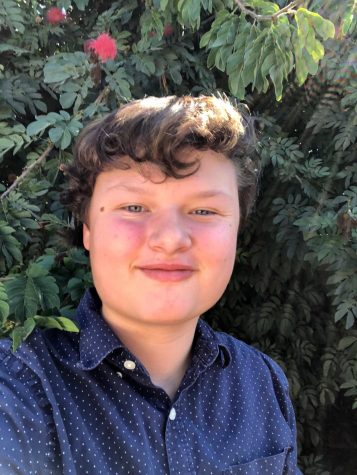 Andoe Glaser, Staff Writer




I play the guitar, I love documentaries, and my dog shares a name with a college.