"Gossip Girl" fans and their opinions on the reboot
You sit down to binge-watch what's going on in the lives of the teenagers on the Upper East Side. You see Blair Waldorf pull out her trusty flip phone and you think, "Wow this could use an update."
Well, that's exactly what's happening.
On July 17, 2019, it was officially announced that the CW show "Gossip Girl" was getting a reboot. The new reboot is set to air on HBO Max and feature 10 episodes, each an hour long.
It's been nine years since the original "Gossip Girl" show went off the air, however, it has gained a younger following since its addition to Netflix in October 2011.
Some fans felt conflicted about the show getting a reboot, but there is also excitement and anticipation.
Senior Jaquelyn Robledo said, "When I first heard of the reboot I wasn't as excited as I am now. Usually reboots are not as good as the original show and because 'Gossip Girl' is my favorite, I didn't really want another show to be like it."
Sophomore Christine Hinckley said, "I'm mostly excited because Kristen Bell is still going to be in it so they're keeping a main part from the first show. I think an iconic show like that getting a reboot could lead to disappointment if done wrong, so I hope they do it right. It all depends on the writing."
I myself have watched all six seasons of the original series, and I consider myself to be a fan, however, there has always been one issue that nags at me while watching the show.
The original "Gossip Girl" does not have adequate representation. Most of the main characters are white, and the only main LGBTQ+ identifying character is often on the side.
When Robledo was asked about representation in "Gossip Girl" she stated, "There was not enough representation on the show at all. When I first watched the show I don't think I really noticed, but as I got older, I saw that the cast was mainly white and straight."
Hinckley also has an opinion about the representation of the show.
Hinckley said, "Ultimately no, but it wasn't a show focused on representing everyone. It was focused on displaying the Upper East Side life and how rich people aren't any better than the rest of us because they have money. It was also 20 years ago and people were stuck in an old way of thinking."
It seems that things will be different this time around.
In an article by Glamour, "The Gossip Girl Reboot: Everything We Know So Far," it says that at the Vulture Festival in 2019, Joshua Safran, a writer for the original show said, "So this time around, the leads are nonwhite. There's a lot of queer content on this show. It is very much dealing with the way the world looks now, where wealth and privilege comes from and how you handle that."
In the spirit of representation, one of the things that I am excited about is seeing openly transgender actress Zión Moreno make her appearance as Luna La.
Aside from more representation, fans have other hopes for the reboot.
"I don't want to see the same story lines because one of the biggest flaws that 'Gossip Girl' did was just adding a little bit of storylines here and there that weren't that important or characters who were there for five episodes and I always hated that," said Robledo.
Fans also have hopes for the fashion of the reboot.
An instrumental part of the original show was its outfits. The outfits that the characters wore were expressive of their personalities. They also serve as a sign of the times.
"I hope the fashion shows how nowadays we draw inspiration from previous trends but there are still new trends being created," Hinckley said.
Robledo said, "The fashion of 'Gossip Girl' is always so mesmerizing to me because they all look so good in whatever they wear, but it's also like years ago the fashion was so different. I am excited to see how they use signature pieces from the original show and use it in a way that's more timely."
"Gossip Girl" is known for its style, drama, and New York setting. It has made a lasting imprint on pop culture. While it does have major flaws, the show made great use of music with its soundtrack and it made the fashion very memorable.
I hope that the reboot gives "Gossip Girl" fans something that's new and different but that also retains the elements that made the original show endear to audiences across generations.
View Comments (1)
About the Writer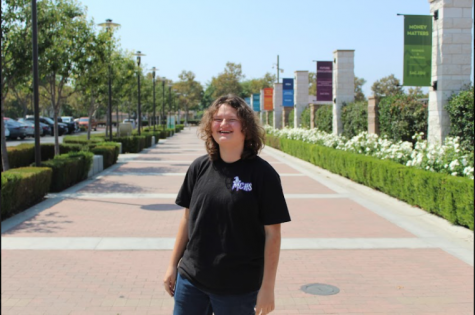 Andoe Glaser, News/Opinion Editor



My dog is named after a university, I love documentaries, I like graphic socks.