Aiming for the top: Speech and Debate class works hard to place at virtual competitions
Waking up at the crack of dawn getting ready and spending the entire day in a competition hoping to break through and place,  the Speech and Debate team works hard in order to place at the many virtual competitions they attend. 
"I take notes and practice the parts the coaches say I need to fix. I try not to over-practice though so the performance is more genuine," said freshman Ruby Perez-Ortega.
The Speech and Debate team spends a lot of time practicing and improving their performance in and out of the classroom. In addition to the hour of class, the team also meets after school on Tuesdays, Thursdays, and sometimes Wednesdays from 3 p.m. to 6 p.m. in order to get more time with the three coaches. During this time, the team is able to work on their speeches and add more to them in order to make their performance the best it can be. 
"I like the coaches, they are straight to the point and they help you if you need help," said Ortega.
When asked about the coaches the students expressed positive remarks.
The Speech and Debate team has three coaches, Tony Ugalde (the main coach), Norween, and Queen Chiwanga, all of whom make time out of their schedules to help the students. These coaches want to help the team better themselves and place in competitions. According to Ugalde, Queen and Norween have been coached by him before and after they graduated, they decided that they wanted to help students the way he helped them. 
"Well I do put a lot of time in. I usually wake up an hour and a half earlier than our check-in time so I can eat and take a shower and take my time. I go to practice at least once a week and get at least 45 minutes of coaching, and my prep time for each session is 30 minutes, and tournaments can be around eight hours or longer," said Ortega.
In order to attend competitions, sometimes students will have to wake up before the sun rises. For the virtual Harvard competition this month, students had to make sure that they were awake and ready very early in the morning because the competition was three hours ahead. In addition to waking up early, the team also has to spend a lot of time getting their performance space ready and making sure that their cameras can catch their performances.

"This year has proven to be incredibly difficult for all students from all walks of life. But the perseverance and dedication that our speech team has embodied have been undoubtedly clear to me," said the team's captain, sophomore Cecy Rivera.
Rivera talked about how proud she is about the dedication the team has shown despite the limits and situation they are in. Despite having the competitions online, each of the members shows up at the scheduled meeting times and prepares for the competition together. Virtual competitions are very different from in-person competitions due to the fact that you're just performing to a screen. Most of the competitors only see the judge and a bunch of blank screens when performing. Despite the nerve-wracking setup, Ortega mentions that in order to do well she keeps "a good outlook on competitions" and tries to "perform every round like it's [her] last."
"I sincerely applaud them in every way for every extra hour of practice they take, for every extra day of preparation, because I know the dedication it takes," said Rivera.
Overall the Middle College Speech and Debate team goes above and beyond in order to better their performance and place at competitions.
The team mentioned that it's hard to be doing this online and that it's different from what it used to be, but as Ortega said, "Even though it's scary you get a great experience especially when it's in-person."
This weekend, February 27 and 28, Middle College High School Speech and Debate team is competing at State Qualifiers, but since the beginning of the school year, the team has attended about six competitions. Additionally, many members of the team placed at the competitions they've had in the current semesters. As Ortega mentioned, these competitions tend to take up most of the day and require a huge amount of energy and commitment to go through the many rounds, performing their speech in a room by themselves.
Despite all the difficulties the team encounters, Rivera is proud of all the work the team has put in and expresses her support and pride for them.
"Speech is an art form that takes tedious and constant practice; I have seen my team members put their best foot forward these past few months, no matter the consequences. I am super proud of every single one of our members, each of who has taken initiative in obstacles to overcome, and greatness to achieve."
These are the awards Speech and Debate have won so far:
For the SoCal Spring tournament:
-Bronze award in Dramatic Interp: Keila Lopez
-Silver award in Dramatic Interp: Samara Oregon, Ashely Andrade, and Cecy Rivera
-Gold award in Dramatic Interp: Ashley Andrade
For the OCSL Spring Tournament:
Finalists in Dramatic Interp: 
4th Samara Oregon
3rd Ruby Ortega
2nd Ashley Andrade 
Finalist in Original Oratory:
7th Samara Oregon
Finalist in Humorous Interpretation: 
7th Carolyn Tran
View Comments (2)
About the Contributor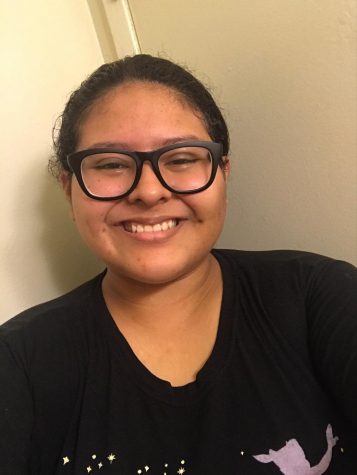 Rebecca Guerrero, Co-Editor-in-Chief
My favorite color is royal blue, I want to travel the world, and I love to sing with my niece.