A sign of relief: Covid-19 vaccine for our teachers
With the new COVID-19 vaccine arrival, people are finally having a sense of relief and joy. This new vaccine is being given to the elderly of ages 65+ and essential workers. With all of this happening there is finally a light at the end of this dark tunnel and hopefully we can get back to normal very soon.
There have been numerous teachers and elders who have been vaccinated and the cases have been lowering. There have been some side effects recorded like tiredness, soreness, and headaches.
Math teacher Norio Kaneko said, "I was nervous at first when I was going to get my first shot, (Pfizer). When I got it the day after my arm felt really sore and I had nausea." 
Many teachers felt a sense of relief since they have gotten the vaccine. There has also been recent news that students/teens of the age 16+ can get their vaccine too. At this rate, mostly everyone will be vaccinated by the end of this year. The scientists and doctors have really been working hard for us and this shows it.
 Kaneko said, "I am hoping everyone gets their vaccination too, so that we can return to normal as soon as possible. We have to keep ourselves healthy so that we don't get sick as well."
English teacher Kathleen Peterson said, "When I first got my shot I only had one side effect, which was soreness for a couple of days. I am grateful though because I have bad asthma so the vaccine was worth the risk."
Many people have asthma as well and they will take any risks to protect themselves from getting sick. There has been recent news that people that get the vaccine will get sick for a few days, but after that they won't anymore. Some are worried that the disease will mutate and the vaccine won't be strong enough.
Peterson said, "We have to see how much of the population gets vaccinated for us to determine if this vaccine will end the pandemic or not. We also have no information that this disease will mutate into something worse. All we can do for now is remain hopeful and keep getting vaccinated."
As of April 13 there were six patients with blood clots possibly related to the Johnson & Johnson vaccine. The Johnson & Johnson vaccine was paused for this reason, but for now the best thing is to remain hopeful and stay healthy. Together all of us can end this pandemic. Don't forget to wear your masks!
About the Contributor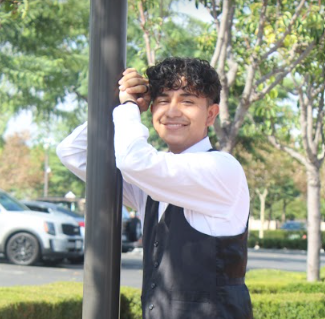 Juan Alvarado, Staff Writer



I like to draw, I like to play video games, and I like to play soccer.