The impact of COVID-19 on student essential workers
The impact of the pandemic has left the world in a frenzy and has caused great changes to take place in our everyday lives. High school students are among the many that have been greatly affected; hundreds to thousands of students today are burdened with the overwhelming difficulty of having to make money, work rigorous hours, and on top of that, study for school during the COVID-19 pandemic.
Students are having to step up and help their families with the burden of needing to provide. Senior Evelyn Gudino, who is currently working at McDonalds, is one of those students.
"Before the pandemic I was considering getting a job, but I hadn't because being an MCHS student is a lot of work on its own. There were a lot of reasons why I chose to get a job. The primary reason being that due to the pandemic my mom was not working a lot, and I felt like I needed to be able to provide some relief, even if it was small. I'm also saving up to pay for college because I'm probably going to have to put myself through school," she said.
With graduation in her midst, she finds this time to be difficult and overwhelming especially with teachers taking advantage of this time and assigning extra assignments which can be extremely stressful and exhausting to a student who is currently experiencing senioritis. 
"My schedule is pretty fixed. I have classes from 11:00 a.m. until 2:00 p.m. After that I typically leave in order to get to work. I'm back from work four hours later. I start homework a few hours after that and finish at around midnight after which I go to sleep. If teachers cut down on the work they gave it would make me feel less frantic about the time I have in a day to get things done. I often feel very tired and worn out coupled with the lack of motivation caused by senioritis," Gudino said.
Gudino stated how she never expected to go through her final year of high school relatively alone. She feels as though the fruits of her labor amounted to practically nothing since senior activities were canceled. She wasn't really able to enjoy all the hard work she put in for the past 13 years of schooling she had to endure. 
When asked how her job affects her school and personal life Gudino said, "Juggling high school, college, work and personal life has presented some challenges. As a minor I'm only allowed to work a certain amount of hours and my job is flexible with my availability which is great. Some teachers and professors are good about being understanding about the situation while others are not. I've gotten behind on some school work but it's not because I have to work. It's just due to the sheer amount of classwork and homework that gets assigned since it seems some teachers have taken to assigning more work than usual during the pandemic."
Life has changed so drastically for students. Gudino shares the biggest differences she has noticed from life before COVID and now.
"One of the biggest differences between before COVID and now would have to be social interaction. I used to see my friends and just people in general everyday. I don't see them much in person anymore, unfortunately, but I do text, call, and FaceTime them more often. I feel like we all became a lot more aware of what we bring into our households after COVID. We wash every single thing we bring from the grocery store, including boxes and gallons, and any new clothes or other items. I can't think of too many things that stayed the same. "
Rebecca Guerrero, a senior who too works at McDonalds, was nervous at first to continue working when COVID hit considering how much has changed at her job. Fortunately, her mother has been there to make sure she stays safe by reminding her to wash her hands and to use hand sanitizer.
Guerrero continues to list the specific safety procedures that her work implements to keep both workers and customers safe.
"We have to wear gloves and change them whenever we switch tasks. Additionally we wash our hands every hour. We also have to wipe down all the touch spots and make sure we are constantly sanitizing our areas. Recently we got one of those arms that hold the card reader to limit contact between us and the customer. That was really weird at first because McDonalds before was always about making sure the customer had a great visit, but because of the pandemic our interactions are really limited."
When asked which were the biggest differences between life before COVID and now, she says, "There is a big difference like I said earlier it was all about making sure the customers had a good experience at the store. But now it's about making sure interactions are limited and we're being safe. I used to know a lot of the regular customers by name and now I get a little sad when I see them. At my work we all created connections with the customer so being so divided from them was super different. Additionally, I used to work the front a lot before the pandemic and now since that's closed I'm in the window and that's a huge difference from before. Also it makes it really hard to try and figure out what people are saying and sometimes people don't understand why we can't do something due to the safety measures we have in place."
Guerrero stated, "We're going through the same things as everyone else and though people forget we are putting ourselves at risk by working so please be kind and understanding."
Liz Rodriguez, LVN nurse and mother of three, stated her opinion on students working during the COVID-19 pandemic.
"I believe they should continue living their lives. Social economic and mental well-being sometimes outweighs the risk of catching COVID. You can work and also stay safe. Since the rates of suicide are increasing I think it's important the kids stay social as much as possible. That's my opinion, keep the kids social," Rodriguez said.
About the Contributor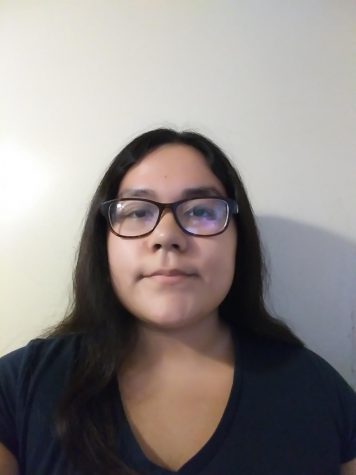 Lizzette Rodriguez, Staff Writer




In 7th grade I was the leading role in my school's play, one of my favorite childhood video games is Left 4 Dead, and I enjoy watching anime.