Fun makes a comeback: New attractions coming soon
After a year of being closed, theme parks in California make plans to reopen as Southern California leaves the purple tier and enters the orange tier which is expected as soon as late April.
In the meantime, some theme parks already have activities and attractions prior to reopening; some of these parks include: Universal Studios, Knott's Berry Farm, and Disneyland.
Universal Studios opened CityWalk in Hollywood, California on June 11, 2020. The Universal CityWalk is a place for dining and shopping. Information from the Universal Studios website says that, "Select venues are open for limited operations from 12 p.m. to 8 p.m. daily."
In addition, the Universal Cinema AMC opened on March 19 so that you can, "start watching movies again at the place where movies are made."
 On March 12, a limited time event called a Taste of Universal debuted. This event takes place Fridays through Sundays from 12 p.m. to 7 p.m with prices ranging from $44 to $59 (plus tax) depending on what day you visit. It's an event filled with foods from fun lands such as Hollywood and Dine, Springfield, U.S.A., The Wizarding World of Harry Potter, and an all-new Minion Cafe.
Freshman Jenny Duran shows concerns about her safety and health.
"Not a lot of people are vaccinated and the virus can spread…the pandemic isn't really over," she said.
However, before entering the event you will get your temperature checked, wear a mask (except when seated in eating areas), practice social distancing, and you can be assured that "all chairs, tables and high-touch surfaces will be thoroughly and frequently cleaned and disinfected."
Similarly, Knott's Berry Farm began hosting the Taste of the Boysenberry Festival which started on March 5 and will continue until May 2. The prices are a $45 regular tasting card for adults and a $20 junior tasting card for kids (plus tax). The festival will showcase boysenberry treats. The boysenberry is a type of berry that has been infused with raspberries, blackberries, dewberries, and loganberries.
At the event, the park goers will get a tasting card that includes up to five meals. Some of the featured meals are: Boysenberry BBQ carne asada pizza with cilantro and onions, Philly cheese fries with boysenberry onion topping, and boysenberry mashed potatoes with chicken or tofu. On the dessert side of the menu, you can expect to find the boysenberry key lime tart, boysenberry cake with boysenberry cream cheese icing, boysenberry thumbprint cookies, and the boysenberry crisp.
In order to guarantee your safety, you will get your temperature checked and the associates have been trained on the importance of hand washing, social distancing, and hygiene. The park also encourages that the guests wear their masks unless they are sitting at a table or bench and that they use contactless ways of paying such as credit cards, Apple pay or Android Pay.
Freshman Joseph Lira has had the opportunity to go to the Boysenberry Festival and shows his concern for the safety regulations.
"People would wear their masks at the entrance and later find a way to slip it off," he said.
He also said, "It's a technical challenge," to make sure that all of the high-touch surfaces are cleaned. 
To ensure his own safety and to enjoy future attractions, he would consider wearing two masks and gloves.
Disneyland in Anaheim, California had opened its retail and dining locations such as the Downtown Disney District and Buena Vista Street on July 9 and November 19 of 2020. However, the Buena Vista Street closed on March 15 to prepare for the limited time event: A Touch of Disney. The event started on March 18 and will follow through until April 19 with a cost of $75 (plus tax). During this event, park goers will have the opportunity to explore, enjoy food and drinks, and shop around outdoor areas located near Disney California Adventure Park.
Lira is happy that many locations are starting to reopen because it's, "Good for the community and it would help the surrounding areas and businesses."
Participating restaurants include Sonoma Terrace, Lamplight Lounge, and Smokejumpers Grill, and Award Wieners.
More recently, Disneyland announced that they will be opening on April 30. It will also open other attractions in phases: Disney's Grand Californian Hotel & Spa will reopen on April 29, Disney Vacation Club Villas at Disney's Grand Californian Hotel & Spa will reopen May 2, and Disney's Paradise Pier Hotel and the Disneyland Hotel will reopen at a later date (all with limited capacity).
In addition, Disney characters will make a comeback in new ways and locations due to social distancing. For example, Mickey and Minnie Mouse will be seen waving from the train station. Other activities such as parades and nighttime spectaculars will return sometime in the future.
In order to stay safe, Disney will follow some procedures and sanitation areas such as easy to access handwashing facilities, hand sanitizer dispensers, and end-of-day sanitation procedures for outdoor locations. It also asks that the guests wear masks at all times.
On April 30, Disneyland in Anaheim, California will be the last out of the six Disney parks around the world to open.
About the Contributor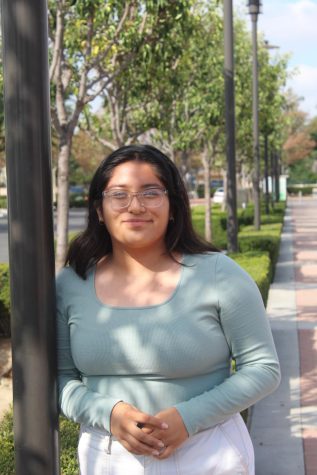 Esmeralda Coeto Medina, Community News Editor
My favorite animal is a polar bear, I love strawberries, and my favorite subject is biology.