Ongoing homeless crisis in Santa Ana
Inhabitants of Santa Ana are quickly discovering that homelessness is a reality that is still growing after our neighbor city, Anaheim, declared it a state of emergency.
As junior Danny Diaz recalls, "Recently, I was trying to go the Santa Ana Public library, when a homeless man started staring at me. He yelled, 'Young man, young man,' making me feel uncomfortable. It's hard to go through downtown Santa Ana without seeing any homeless."
Interestingly enough, Anaheim's city council, on September 13 of this year, declared the city's growing homeless crisis a public health and safety state of emergency. This prompted the inhabitants of Santa Ana to become more and more concerned about the growing population of homeless people. The biggest source of homeless actually comes from the Santa Ana river trail.
As council member Jose Solorio explained, "The homeless problem is citywide, and even in the Plaza of the Flags area next to City Hall, we have about 175 homeless residents living there."
The problem of the homeless population has even prompted the city of Santa Ana to search for a Homeless Services Manager, to help confront the problem. The future of this problem is unclear, but one thing is confirmed: the city is trying to figure out the solution. Whether it will be to offer homeless people alternative housing like Anaheim, or a new solution, City Hall is hard at work trying to figure out this conundrum.
As Danny Diaz states, "It's about time we started to take care of it. It's excessive at this point. As long as it [homelessness] becomes a priority it's bound to get rid of."
Santa Ana may tighten restrictions on homeless people living in the civic center, citing public health concerns https://t.co/hLco06iFiF pic.twitter.com/MyEUKaPvkr

— 89.3 KPCC (@KPCC) October 3, 2017
About the Contributor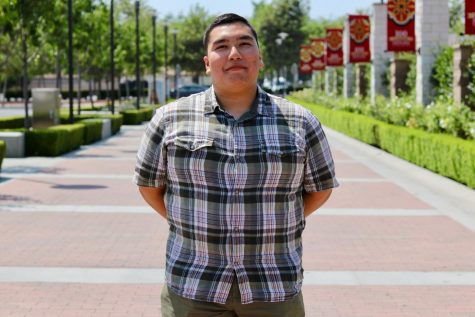 Alexis Rodriguez-Mejia, Co-Editor-in-Chief
Fun Facts:

I love writing poetry and reading poems.
I am the first person to be the Editor-In-Chief two years in a row for our school newspaper.
...