A rise in gun violence this year devastates the United States
There have been numerous mass shootings in 2020 and 2021. There have been approximately more than 230 mass shootings so far this year, and more than 13 mass murders. There were 610 mass shootings and 21 mass murders in 2020. This data can be found in the Gun Violence Archive website.
A mass shooting is defined as, "A single incident involving the shooting with one or more firearms of a number of people, but more than two and typically a large number, especially when the victims are random."
A mass murder is, "The act of killing a number of people in a single incident or over a short time period, involving more than two victims and typically a large number."
The Second Amendment in the United States Constitution states, "A well regulated Militia, being necessary to the security of a free State, the right of the people to keep and bear Arms, shall not be infringed."
The "right of the people to bear Arms" generally means that it is right for people to possess a weapon for their own self defense. 
This brings up a couple of important questions. Should ANYONE be allowed to purchase a weapon for their safety? Will they use the weapon ONLY for their safety? Or do they pose a threat to others with this weapon in their possession?
An article by the National Public Radio stated that, "The U.S. has the 32nd-highest rate of deaths from gun violence in the world: 3.96 deaths per 100,000 people in 2019. That was more than eight times as high as the rate in Canada, which had 0.47 deaths per 100,000 people — and nearly 100 times higher than in the United Kingdom, which had 0.04 deaths per 100,000."
Some states require citizens to be 18 years old in order to purchase a weapon, but others allow you to be younger than that. This itself makes it easy for dangerous individuals to get a hold of a weapon and use it to harm others. In the state of California, purchasers of handguns need to provide proof of California residency, and either possess a Handgun Safety Certificate plus successfully complete a safety demonstration with their recently purchased handgun or qualify for an HSC exemption.
An article by CBS News said, "Federal law requires someone to be at least 21 to buy a handgun from a licensed dealer, but only 18 in most places to buy a long gun. In some states — mostly rural places with a strong tradition of hunting — you can buy a rifle at the age of 14 or 16."
It is required that licensed gun dealers have criminal background checks, but federal law does not require background checks for weapons sold by unlicensed sellers.
"
In the state of Georgia, it is easier to purchase a firearm than it is to vote."
Georgia has a no-wait gun law, which allows people to instantly purchase a weapon from a federally licensed seller right after they pass a background check. Georgia does not allow voters to register to vote and vote on the same day. A new voting law has also made it more difficult for citizens to have easy access to resources in their communities. Offering food or water to voters waiting in line now risks misdemeanor charges, there are fewer drop boxes, less time to request absentee ballots, and longer wait times when voting. These are just a few of the many new restrictions in Georgia. 
On March 16, 2021 gunman Robert Aaron Long killed eight people and injured one. Six of the victims were Asian women. This occurred at three spa parlors in Atlanta, Georgia.
The New York Times stated, "The suspect told the police that he had a "sexual addiction" and had carried out the shootings at the massage parlors to eliminate his "temptation," the authorities said on Wednesday. He also said that he had frequented massage parlors in the past and launched the attacks as a form of vengeance. All but one of the victims were women, the police said." 
Since six of the victims were women of Asian descent, this has created an immense feeling of fear in the Asian American community. They believe the women were targeted because of their race. 
An article by CNN stated, "A law enforcement source said the suspect was recently kicked out of the house by his family due to his sexual addiction, which, the source said, included frequently spending hours on end watching pornography online."
Captain Jay Baker of the Cherokee county sheriff's office later stated in a public interview that the gunman was "having a really bad day." This clearly demonstrated a lack of compassion for the victims and their families. Soon after, various sources reported that he had shared images on Facebook of shirts with a racist slogan about China and the coronavirus. Individuals on Twitter also mentioned that "the sexualization of Asian women and racism are impossible to disentangle." The police said that the gunman's attack was not racially motivated, which caused even more public outrage. 
The Atlanta spa shootings evidently show that a dangerous individual can become an even bigger threat with a weapon in their hands. Long was able to purchase a gun and murder eight individual and injure one, within the same day.
Senior Ivan Estrada provided his own opinion for more restrictive purchasing guidelines.
He said, "Extra measures that should be taken when purchasing a firearm is to have a reason for why you may need it. People must also give authorization of disclosure relevant to mental health files, including files related to drug and alcohol abuse. People also would have to have a certain age and license for carrying it." 
Estrada strongly believes that the recent mass shootings this year are a major issue that must be solved.
"The recent mass shootings have made me feel disappointed. Many Americans are dying every single day from gun violence and this makes us look bad as a nation. Gun violence has become an epidemic in America and we shouldn't just stand there and accept it, we must act ASAP," he said.
Senior Cecilia Giles described her thoughts on the various mass shootings this year.
"In my opinion, the mass shootings that recently occurred have made me feel unsafe, due to the fact that there have been many threats aimed at different types of cultures."
Gun violence increased immensely in 2020, and it continues to become a bigger problem in 2021. Mass shootings are occurring more frequently every week, to the point where it has become normalized. Gun control is desperately needed in the United States. 
View Comments (1)
About the Contributor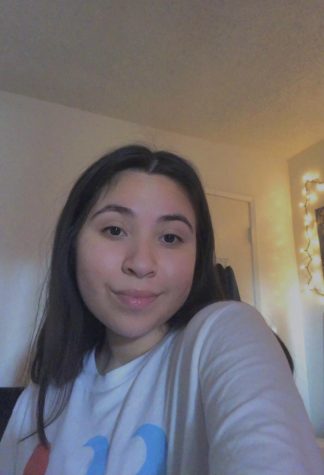 Adriana Flores, Staff Writer
I'm a new Star Wars fan, I love Veggie Straws, I worked at the OC Fair.