Report card on President Biden
COVID-19: B
By far the most challenging task for President Biden is leading the United States out of the COVID-19 pandemic. Since entering office, President Biden has ensured a plan that listens to science, saves lives, keeps schools open and safe, and that protects our economy from plummeting. His administration has worked hard to make the vaccine conveniently available to everyone by opening 80,000 locations nationwide and working with pharmacies for walk-in appointments. Employers, schools, nursing homes, restaurants, hospitals, and cities in all 50 states have announced new vaccination requirements. This and countless other administration initiatives and policies have resulted in 175 million fully vaccinated Americans.
Senior Ashley Navarro supports Biden's decision to reopen schools.
"I know that a lot of students are struggling with mental health issues especially after several months of lockdown, and being back in person helps them both academically and socially," said Navarro.
Since entering office, Joe Biden placed the safe reopening of public schools as a national priority. However, some students and families are still concerned about contracting the virus.
"If students don't want to go back to school for fear of catching the virus, I'm glad they're given the option to stay home," said Navarro.
Immigration Policies: D
President Biden is in a tricky place when it comes to immigration policies. On one side, people are urging him to invest more money in creating an easier path to citizenship. On the other side, people are concerned about the large wave of migrants arriving on the southern border. In the past, Biden has promised to continue fighting for undocumented Americans. He has expressed passion for protecting vulnerable immigrants brought to the country illegally as children as well.
Senior Lucia Martinez expresses her frustration with forgotten campaign promises.
"Instead of hearing about Biden fulfilling promises on improving immigrant lives, I've heard about border control continuing to use harsher methods," said Martinez.
President Biden's softened approach has given migrants hope that they will not be treated with the same hardline policies that they would have faced under Trump, when in fact not much has changed.
Economy: C
On an economic platform, President Joe Biden campaigned to support the middle class, extend health care, raise taxes on the wealthy, and invest trillions of dollars in green energy infrastructure. As expected, the President is also dealing with the rising costs of battling the coronavirus pandemic along with repairing the economic damage it has caused. So far, the Biden administration has sent out more than 160 million stimulus payments worth up to $1,400 per person, released more than $80 billion in aid to state education, and the Affordable Care Act. In his first 100 days, 1.5 million jobs were created, according to the US Bureau of Labor Statistics.
About the Contributor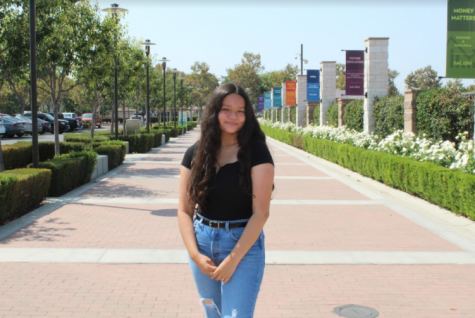 Stephanie Cervantes, Co-Editor-In-Chief



My favorite album is Folklore, I love the number 7, and New Girl is my favorite show.