Wake up joyful! – the Spellbinder's morning go to playlist
Beep. Beep. Beep. Ugh, it's time to get up again. Many people's morning routines consist of brushing their teeth and washing their face. Is listening to music part of your morning routine? 
The primary minutes of your mornings are the most important and may set the tone for the rest of your day. According to Listening to Music First Thing In The Morning Changed My Life, "it is a lot more productive and constructive to listen to a nice beat and visualize your ideal day. During this "meditation" music helps a lot to get you in the right vibe and also sets you up for positive thoughts."
Senior Jennifer Gonzales had this to say about her morning routine. "I feel like my day starts like everyone else's. I wake up, brush my teeth, wash my face and eat breakfast. Most of the time when I wake up I'm usually stressed about homework I didn't complete or haven't started. A way to keep my mind off of all that stress is by listening to music. I do this when I get ready and walk to school. When I listen to music I feel like it's a way of freeing my mind from all of the things I need to get done and enjoying that time to myself. 
"When I wake up I usually stay in bed for a couple of minutes while going through my phone. Once I'm ready I pick out my clothes and head to my restroom. Before washing my face and teeth I always play music to wake me up further, it just makes my mornings better. I have a better mood in school," said sophomore Marybeth Ruiz.
The 2021-2022 spellbinder staff compiled this playlist with our favorite morning go-to songs!
https://open.spotify.com/playlist/0X9iDD9kuCtC9mYWOVsq6C?si=940899d0bd224fc6
Mrs. Storms: 
Style- Taylor Swift 
Maria Alegria: 
Oye Mi Amor- Mana
Sahira Carino:
Pam Pam Pam- Natti Natasha, Becky G
Linda- Tokischa x Rosalia
Miranda Ceja Amezcua:
Maquillaje – Mecano
Stephanie Cervantes-Medrano:
August – Taylor Swift
Valerie Chavez:
Boys Don't Cry-The Cure
Jazmin Chavira:
Es Por Ti – Juanes 
Joselin Corrales;
Bohemian Rhapsody- Queen
Noe De Santiago:
Mr. Blue Sky – Electric Light Orchestra 
Malena Fouts-Arteaga:
LILAC- IU
Alan Gazano: 
Earth, Wind & Fire – Let's Groove
Andoe Glaser:
Doja Cat – Get Into It (Yuh)
Kaithlyn Gonzalez:
Boyfriend – Justin Bieber 
Christine Hinckley:
Yes You Can Use This in Your Vlog- Crust FM
Kimberly Lopez:
Taunt- Wilbur Soot
Sofia Macedo Garcia:
All I Want Is You – Mac Miller
Giovanna Nieto:
Lamento Boliviano – Los Enanitos Verdes 
Nicholas Ramirez:
You'll Never Stop Me From Loving You- Sonia
Viviana Rivera Lopez:
Besame- Camila
Cuando Me Enamoro- Enrique Iglesias, Juan Luis Guerra 4.40
Daniel Salazar: 
Phum Viphurit- Paper Throne
Christopher Garcia:
Lonely God – Marlboro Nights
Ashley Santana:
Tear You Apart- She Wants Revenge
Guadalupe Vargas-Gomez:
Ms. Jackson – Outkast
Bryan Bacilio:
Up Up & Away -Kid Cudi
Kimberly Campista:
Vibin' out -FKJ & (o)
Juan Carreon:
The Night Song-  Ravyn Lenae
Elizabeth Correa:
Gotta Get Up (Interlude) – Kali Uchis
Yarethsi Leal:
Quiero Sentirme Bien- Kali Uchis
Ashley Quinones:
Tear in My Heart – Twenty One Pilots 
Omar Reyes:
The Man Who Sold the World – Nirvana
Hugo Rivas:
Down by the River – Milky Chance
Arlene Rufino:
Tuyo y mío- camilo 
Carolyn Tran:
Centuries – Fall Out Boy
Fatima Carrera:
Try Again – d.dear, Jaehyun
Leave a Comment
About the Contributor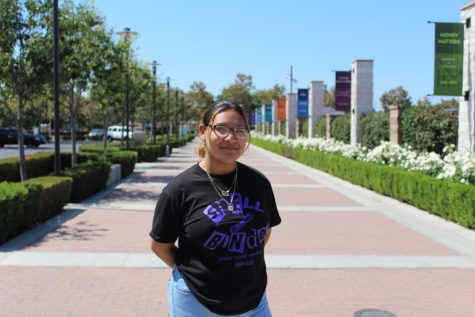 Viviana Rivera, Multimedia Editor & Social Media Manager

I have 7 piercings (so far)
I bought my first car at 16 :)
I've been 5'4 since 6th grade (ouch)