Aging out of Halloween
While passing out some Halloween candy you notice there are some taller figures among the crowd still going from door-to-door. Are you frustrated or are you amused?
Halloween is something people mainly see as a holiday kids celebrate, unless the adults are celebrating by decorating their home with some spooky decorations and passing out candy to the children. When we think of Halloween, one of the first things that comes to mind is trick-or-treating can be fun to do especially with friends, but that begs the question, at what age should you stop trick-or-treating?
Junior Ashley Santana said, "I don't think there's an age limit as to when a person should stop trick-or-treating because it's all based on one's preferences. Everyone likes different things."
Many people have different views on the topic with many students claiming that there is no age limit to the celebration of Halloween through trick-or-treating. Some say that despite being older some might still enjoy going out for free candy and just having fun with friends even if it is to the displeasure of some adults who might be a little reluctant on giving them candy. Older kids may feel more inclined to trick-or-treat this year due to the pandemic.
Senior Angel Hernandez stated, "I really enjoy trick-or-treating with my friends but because of the pandemic I haven't been able to do it anymore."
The pandemic restricted large gatherings and because of this, the streets during Halloween last year were empty. Nobody passed out candy and nobody went trick-or-treating. Although most of us missed it, it was for the best. We sacrificed Halloween to avoid the spread of the virus. Now that things have settled down a bit, we can expect trick-or-treating to continue, but are students embarrassed or are they confident and happy to have a good time?
Senior Caroline Ramos said, "Honestly trick-or-treating is not embarrassing because it's the one night of the year where you can receive free candy and goodies from strangers without being at risk of drug association."
Are trick-or-treaters more comfortable alone or does a group give them a better experience with more memories to create?
Sophomore Malena Fouts Arteaga said, "Yes, it (being in a group) makes it more comfortable and safe, and it's just more fun to dress up with other people and hang out with them."
Be confident and have some fun this Halloween! Enjoy yourself and invite some friends to have a wonderful night full of trick-or-treating, carving pumpkins, dressing up, and more. Happy Halloween!
About the Contributor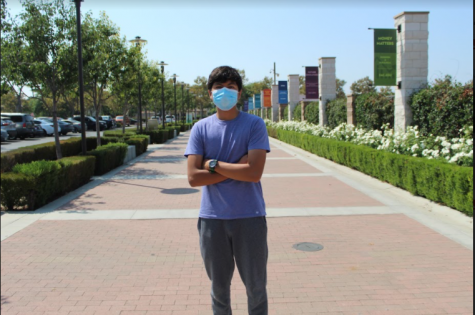 Alan Gazano, Multimedia Editor



My cat had a single kitten, I have been to Disney World, and my favorite color is blue.