Harry Styles Love on Tour concert goes to Inglewood
On November 19, Love on Tour was presented live in Inglewood California at the Forum. People of all ages traveled to see Harry Styles perform songs from his first album, "Harry Styles" & second album "Fine Line" with Jenny Lewis as his opener.
From Santa Ana to the Forum, it's about two hours. When Daniela Arredondo and I got to the Forum, we saw a banner of Harry Styles and his name at the very top of the building. There were already a few people in line and mostly every single one was dressed up as Harry Styles. They all tried to recreate one of the many outfits he has worn; there were so many people wearing those replicas that if you weren't, you would be the one to stand out.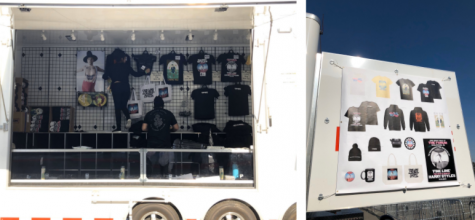 There were two to three trucks with merchandise for his fans to buy, but they only accepted card, not cash. There wasn't a long line, because even though there were a lot of people, they had come earlier so they had already bought their merchandise.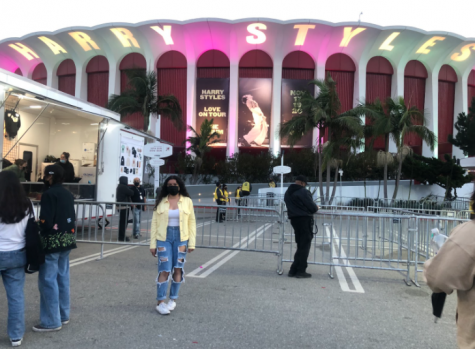 "Line for the merch was short. I didn't expect that. We got there four hours early," said Arredondo.
After Arredondo bought her merchandise, we started looking for the way to our seats. This is where it got tricky. We were basically going around in circles and found multiple people having the same issues as us.
"The seats were easy to find. The only issue was the freaking security guards. They sent us all over the place. They weren't good with communication," said Arredondo.
Once we found our entrance, we still had some time before they opened the doors to enter the Forum. This was when people were able to take pictures on the pillars because they all had lyrics from Harry Styles's songs. There was also a wall that portrayed his timeline.

At 6 p.m. sharp, they opened the doors to the Forum so we could all find our seats. Inside, there was a bar and a few stands full of snacks, food, and drinks. Finding our seats was easier than finding where we were first supposed to go because the seat numbers were labeled at the top of each staircase.
The concert didn't start until 7 p.m. so there was some time to kill. As Arredondo and I took our seats, we noticed that there was an EMT cart in the corner of the pit in case of any emergency. A few minutes after we had taken our seats, a message about wearing our masks at all times was played and the crowd went wild. You could feel the entire building shake from their screams of excitement because they all recognized Harry Styles' voice.
At 7:48 p.m. Jenny Lewis started the opener for Harry Styles. Personally, I have never heard of her, but she was able to capture my attention with her voice.

Lewis sang up to 10 songs in total, but before she started singing her seventh song, a person in the crowd fainted. The other people around started calling for her attention and she immediately stopped and asked the EMTs to go help her.
"I liked how she stopped whatever she was doing to check on the person who passed out. And then how she gave her vintage, well not very vintage, but old pair of Gucci glasses to the girl that beat cancer. I actually liked her voice, it was very raspy," said Arredondo.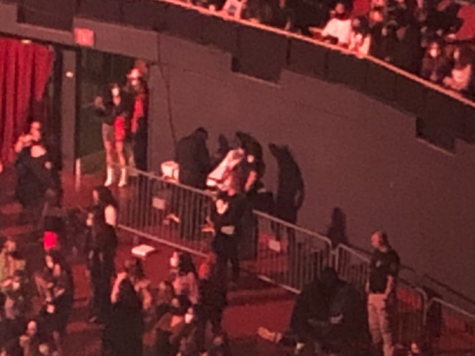 At 8:33 p.m., Lewis and her band finished their last song and got off stage. As all the Styles' fans waited, they played music over the speakers. They played a few classics like "Bohemian Rhapsody" by Queen but the one that everyone went wild to was "Olivia" by One Direction.
"I heard some One Direction fans when they were singing Olivia. They just gasped and screamed the lyrics and clapped to the beat. There are people that hate, well not hate but dislike that song because supposedly, Harry Styles is dating Olivia Wilde. If he's happy, he's happy but no," said Arredondo.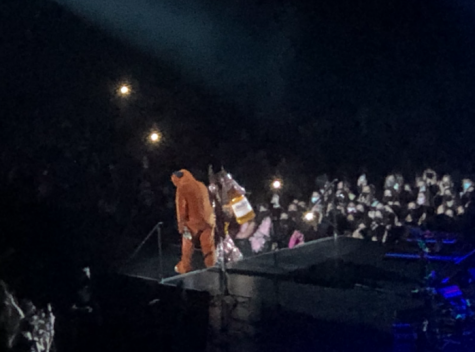 We thought that the crowd was loud before, but at 9:08 p.m. when Harry Styles went on stage and started singing his song "Golden," the crowd absolutely lost it.
The energy Styles brings onto the stage is so hard to describe. I am not a diehard fan of his but after his second or third song, I was screaming with the crowd. Overall, the crowd was so loud that I could barely tell if I was actually singing or not.You can feel the crowd's excitement through the entire building. Once they started jumping and screaming the entire forum felt like it was shaking. The crowd loved Styles so much because he is a good performer, singer, and he accepts everyone.
Styles helped a girl from the crowd come out to everyone. He grabbed a rainbow boa and threw it up in the air as a sign to say that they are out. Right after he started singing "Treat People with Kindness" while waving a flag.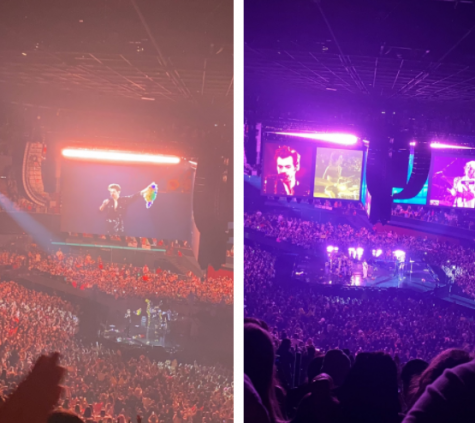 At 10:45 p.m. Styles walked off the stage. Even as he walked off, the crowd was still so energized by his band members. The band was still playing the beat to "Kiwi" and when they all walked away everyone was hyper and a little sad.
"I felt so sad because I never wanted that experience to end because it was so magical," said Arredondo.
Personally, it just didn't feel real to me. I felt so much energy while I was still in the Forum but once Arredondo and I stepped outside it's like the adrenaline left and I felt a little sad that it all ended, especially because it felt like it ended so soon.
Overall, it was such a good show. The energy Styles gives to the crowd is so enticing that you can't help but dance along with him. His band shared the exact same energy. They all stayed happy and excited throughout the entire concert which made the experience so much better.
Arredondo said, "He gives out this energy that's just so different. You guys should listen to Harry Styles… I'm just kidding guys. No, but really. The concert was amazing, there was so much energy for example the way Harry Styles made people dance. That made me feel something I can't describe. I loved it because everyone felt like a huge family."
Setlist
Golden (Fine Line Album)

Carolina (Harry Styles Album) 

Adore you (Fine Line Album)

Only angel (Harry Styles Album)

She (Fine Line Album) 

Two Ghosts (Harry Styles Album)

Falling (Fine Line Album)

Sunflower vol. 6 (Fine Line Album)

To be so lonely (Fine Line Album)

Woman (Harry Styles Album)

Lights up (Fine Line Album)

Canyon moon (Fine Line Album)

Treat people with kindness (Fine Line Album)

What makes you beautiful (One Direction)

Fine line (Fine Line Album)

Sign of the times (Harry Styles Album)

Medicine (Unreleased song) 

Watermelon sugar (Fine Line Album)

Kiwi (Harry Styles Album)
About the Contributor
Ashley Quinones, Staff Writer
I have a pet bunny and turtle, I have only been to Mexico once, and I will hopefully graduate with four AA's.