Community gardens in Santa Ana hope to sprout interest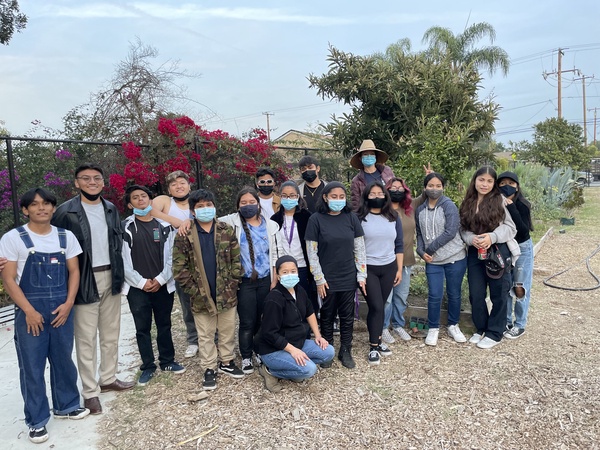 Tucked away at the side of El Salvador Park, in a narrow area is El Salvador Park Community Garden. A cozy corner that seems to go unnoticed but blooms with vegetables, fruits, and dedicated community members. However, this is just one out of five community gardens in the city of Santa Ana.
It was Gerardo Mouet, the Executive Director who proposed the idea of creating community gardens in Santa Ana.
As a result, Jerome Park established the first community garden in 2015 and eventually, the project began to expand; there was Roosevelt Walker Garden, Pacific Electric Park Garden, Madison Park Community Garden, and El Salvador Park Community Garden.
Prior to the garden expansion, Veronica Roach, the Community Center Aid, was only a part-time staff member. However, by 2018 she was a full-time employee and was in charge of El Salvador Park Community Garden.
Roach has always been surrounded by nature and to her gardening is, "a certain type of freedom, independence, resourcefulness, and a [form of] self-efficiency."
The interest that Roach had for nature and the land encouraged her to pursue an education.
"I got my master gardening certificate and I got a degree in physical geography," she said.
Due to her knowledge, Roach was able to bring along her skills into the community garden. The volunteers and participants are also capable of providing new contributions and diversity.
Jose Jimenez Arate, better known as "Don Pepe," is a 72-year-old man who came across Jerome Park Community Garden.
"At that time I had been in an accident and was in a wheelchair. I was going for a stroll in the park when I came across the garden," he said.
Don Pepe added, "I went through the gates and I started working."
Maria Zacarias Torres was volunteering that day and when she saw Don Pepe she offered him a pair of gardening scissors, and he began cutting the leaves from the plants.
"I had been in the wheelchair for three years, and when I could ride my bike again they told me, 'Don Pepe, there is another garden in Madison park,'" said Don Pepe.
For the following years, Don Pepe has been volunteering at all the community gardens.
He said, "I like all the gardens. I am curious to know how things are planted, when fruit is grown, and how it grows."
The community garden is also a place where one can improve their mood. Roach describes the garden as a "nature oasis" and said, "Gardening has helped me through very stressful times and has taught me to be more mindful."
Additionally, Roach describes how being in the garden aids in a better mindset: "Smelling the plants, touching the soil has helped me be happier, calmer, and feel a sense of community."
The Bring About Hope Club, a mental health advocacy club, encouraged its club members to take a break from their busy school lives and explore the art of gardening. With that, they set up a collaboration with Roach and El Salvador Park Community Garden.
At the collaboration, club members discussed the benefits of gardening and provided maintenance to the garden. The tasks consisted of planting seeds, breaking down compost, and weeding the garden beds.
Junior and club member Yvette Basilio said, "It was pretty interesting to see that Santa Ana has a garden. I wasn't aware that there were any gardens."
Being in the garden brought the club members new experiences both to gardening and to new people.
"I think my favorite part was actually being able to plant our seeds and be a part of our community, and seeing how the plants and trees are being taken care of. Also, I ended up making a friend so it [gardening] does end up bringing people together," she said.
Junior and club member Tony Vu said, "Honestly digging up the old plants and breaking them apart was my favorite part because it was not only me but also my friends there, so we were just talking while doing it…It [gardening] made me feel happy and less stressed."
El Salvador Park Community Garden has also hosted different activities such as the Harvest Festival, International Composting Week, Volunteer Days, Bed Building Days, and World Soil Day. Regardless of all the garden's events: "We struggled to get the garden known," said Roach.
The community gardens offer many benefits and everyone is welcomed to participate in any of the activities.
"I invite people to come to the garden and see what it has to hold," said Don Pepe.
The gardens unite members of the community from all ages and backgrounds. The memories, fruits, and vegetables, "Give us something to share with the younger generations," said Roach.
About the Contributor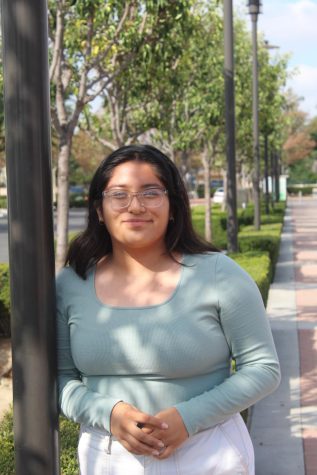 Esmeralda Coeto Medina, Community News Editor
My favorite animal is a polar bear, I love strawberries, and my favorite subject is biology.