The realities and hardships of university life
Cristina Alvizo, MCHS alumnus who now attends the University of California San Diego said, "So far school has been going good, but I have struggled at times. I love being able to be back on campus and getting to experience in-person instruction."
As the first semester is almost coming to an end, current MCHS seniors have been working on submitting college applications. Seniors usually get their acceptance letters around the month of May, but the majority are nervous about making their final decision. Former MCHS students who graduated last year from the pandemic are already attending their classes in person. Some are even dorming on campus and live hours away from home.
Another alumnus Mary Serrato, a freshman at San Francisco State University, shared her thoughts on her first year so far.
She said, "There's a lot of freedom, which I love; everyday is something new. My favorite part is the weekends with my friends. You are also accountable of your responsibilities and actions, especially if you're away from home so it's definitely up to you and that's when you really have to be smart about your actions."
Attending a university far from home can give you a lot of free time when you're not in class. Alvizo said, "I usually go out for walks and hikes around campus. My favorite thing to do is to walk across the street to the beach to watch the sunset and just rest my mind. Being in a new environment can be very stressful on top of the school work, so on my free time, I make sure to prioritize my self-care."
College is definitely something that takes time for students to get adjusted to. Some students have a part-time job which help them with school expenses. But, students who don't work usually have more time to focus.  Other students who don't work usually spend their time relaxing and hanging out with their friends.
Since the pandemic began, the class of 2021 had to spend their senior year online. Since they spent their year online, it was hard to transition from high school to college, or so you might think.
Alvizo thinks that it was troubling trying to get used to the reality of college life.
"I have been struggling to settle into in-person instruction and the dorm life. From attending school online for over a year to jumping right back into in person was very stressful. Luckily professors have been mindful of it and there are plenty of resources on campus to help," she said.
Some current seniors have been thinking about going to school hours away from home or sometimes in a different state, but are scared to leave behind family and friends, whereas some are comfortable with staying home or attending a school near home so that they won't leave their family and friends behind.
Serrato sees it differently; she thinks that she was ready for a huge step like this.
She said, "The first two months I had no homesickness, but by the third month I started to miss my family. My friends helped a lot, especially my roommates; she definitely became my home away from home. Calling my family often has helped, and I text my brothers almost everyday so I always feel in the loop with their life's and vice versa."
Going back to the topic of having a job and college being expensive, these college students have it hard.
Alumnus Steven Garrido works while going to school, and has said that it was hard.
Garrido who attends Chapman University goes to class and later on has work right after, so he's pretty busy most of the time. "I don't have much free time after school. I work roughly about 30 hours per week so that doesn't give me enough time to do much besides hanging out with my coworkers after work," he said.
Although trying to balance work and school at the same time may seem difficult, it definitely helps since college is very expensive.
"Having a job does help with big time expenses because it gives you the freedom to go out places with friends and buy any little necessities you need," said alumnus Karina Romero.
The college experience will always be difficult but remember that you're not alone. Communicate with your professors, friends, and family. It's not always going to be easy and you will always make mistakes throughout the way but you will learn from them. Choose a school based on what you want. Don't let anyone choose for you.
Serrato said, "When it comes to choosing a school, don't go based on friends or the 'best' school. Go based on what you want and see yourself be the happiest, even if you're the only one that will attend the school. If you don't get in your dream school, it's okay because it wasn't meant to be and another school will be beneficial for you."
There will be times where you feel like you can't do it but always remind yourself of everything you've done in order to get there.
"Advice that I would love to give to students planning to attend a university is to be confident in yourself. There's gonna be plenty of times where you're going to doubt yourself and the place where you are. Remember that you worked hard to get to the university and you belong there just as much as your peers. Also never be afraid to ask for help. There are so many resources on campus to help you with any problem that you face," said Alvizo.
View Comments (1)
About the Writer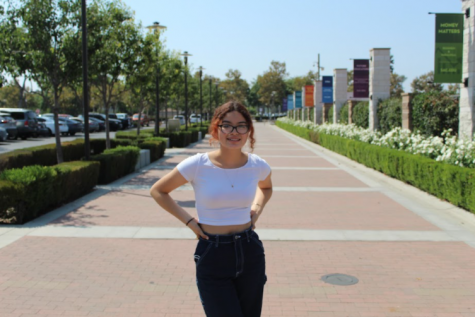 Giovanna Nieto, Staff Writer
I love collecting crystals, My favorite artist is Tyler the Creator, and I like reading.