The impact of COVID-19 on low-income households
Before the pandemic, low-income households experienced difficulties with healthcare and purchasing daily necessities. Now, as the variants of COVID-19 rapidly spread, low-income households shifted their focus to face the challenges with purchasing pandemic supplies that are a necessity for their health. 
According to a five-part survey conducted by NPR, The Robert Wood Johnson Foundation, and the Harvard T.H. Chan School Of Public Health, approximately 72% of Latino households reported facing serious challenges affording housing, bills, and basic necessities. The survey also stated how 63% of Latino households said their family members lost jobs or had wages or hours reduced since the coronavirus outbreak began in the United States.
An anonymous MCHS student shared how the pandemic has affected their financial status. 
"My mom was unemployed for seven months and we were low on money and then she got COVID at work, costing us hundreds of dollars in supplies that we didn't plan on spending," they said.
 Lucia Martinez, an MCHS senior, also shared a similar experience.
"We were financially stressed at some point because my father is the only source of income at my household. When he stopped working, we had to rely on our financial budgeting skills. He has started working again and now we have learned to set aside emergency funds," Martinez said. 
These unexpected layoffs cause significant damages to a family's financial situation, especially when workers do not receive paid sick leave.
Translated from Spanish to English, SAUSD parent, Olva Ayala shared how not receiving a paid sick leave affected her income. 
"When I got COVID in October, I had to miss two weeks of work. I lost two weeks' worth of money that I need to fully support my family. It was hard. I was worried about my kids and their health," Ayala said. 
Overall, restocking pandemic supplies has left low-income families in a tough predicament.
Face Masks 
Face masks are one of the things that added a financial burden onto the shoulders of low-income households. 
Public health experts, including the Centers for Disease Control and Prevention, have encouraged the general public to wear N95 masks because they provide the best protection. However, acquiring these high-quality filtration face masks is not as easy as it seems.  
"Access to N95s have been rough, especially because they're expensive and not everyone can afford the safest option because of the price," an MCHS student said.
Another MCHS student shared a similar concern regarding the cost of face masks. 
"They're too expensive for us to afford, meaning we'll use the same one until we have money to buy new ones or the one we use is to worn out," they said.
For instance, my family purchases a pack of ten filtration face masks that cost $20 once a month. However, we make sure that these masks last us for at last several weeks by keeping track of how long we have worn them.
Nevertheless, repeatedly buying face masks more specifically N95s or other filtration masks, is something that seems impossible for low-income households when they have other expenses to pay.
"At the beginning of the pandemic, I found it hard to find and buy masks for everyone in my family, especially for my younger son who has a smaller face. Now that the health experts are recommending other masks, I have trouble buying them at a reasonable price," Ayala said.
COVID-19 Vaccines
At the start of the pandemic, scheduling appointments for the COVID-19 vaccine became a challenge to many. 
"I do remember around the start of 2020 when my parents and I were trying to schedule for vaccines, it was sort of challenging because all the available clinics would be pretty packed and full and there wouldn't be as many appointments available. I remember one time waiting in line for around two hours to even get the shot for the vaccine," MCHS senior Ashley Navarro said. 
For most workers, waiting in line for two hours is something that they can not afford to do simply due to their conflicting schedules. 
"Because of work, I have to schedule appointments on my off-days, such as Saturday afternoons or Sundays to get my vaccine. But because there are other workers who are thinking the same, there are not many available appointments," translated from Spanish, SAUSD parent Maria Solis said.
COVID-19 Rapid Antigen Tests
With the surge of Omicron, the need for testing increased yet getting Antigen rapid tests became more difficult for low-income families. 
Before receiving the free Antigen rapid tests distributed by the Santa Ana Unified School District, low-income households had to schedule appointments or purchase COVID tests.
"When my sons got COVID, I was worried. We didn't have any COVID tests at home to check if I was infected. I had to ask my friend if she could drop off a COVID antigen rapid test. I'm so grateful she bought me one," said Solis.
While the Antigen rapid tests provided a sense of security, they only provide temporary protection for most low-income households since these tests are single-use only.
The challenges low-income households face regarding face masks, COVID-19 vaccines, and COVID-19 rapid antigen tests leave families to make difficult financial decisions that can impact their health.
"Pandemic supplies should be available to everyone, no one should be living their life in fear simply because they can not afford to protect themselves," said Solis. 
View Comments (1)
About the Contributor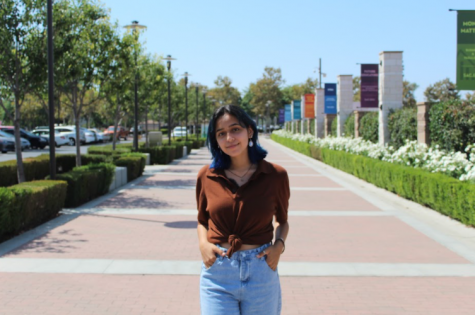 Yarethsi Leal, Staff Writer



I currently have 7 ear piercings, I'm an only child, and I have a rock collection.